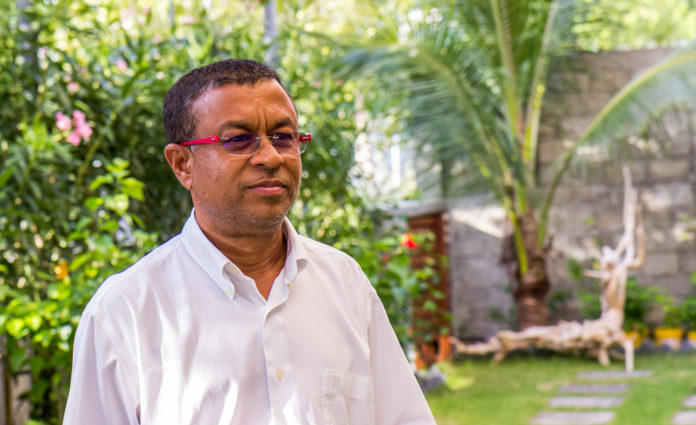 Mr Adnan Moosa, MD of ILAA Maldives, with his impeccable vision for the future has built a company that is smart and green despite operating in an industry that caters to delivering high end heavy machinery and services. He made bold decisions and moved their head office to, at the time a "barren" Hulhumale . Mr Adnan makes sure that the company follows environmentally sustainable practices when carrying out their daily operations. Having started out an early age right in his home he has created one of the largest companies that operate in the supply of heavy machinery and waste management solutions industry. Corporate Maldives had the pleasure of sitting down with Mr Adnan to talk about his journey from his humble beginnings to where he is today.
How did you start off with your company?
I finished off high school and went abroad for university education and spent 6 to 7 years in the field of mechanical engineering. But before I left I was introduced into the job market when the airport was first being built and operations had started. They had problems getting the man power or employees to run the airport and started to hire high school freshman as part time staff and as interns and I was selected amongst the crowd. This was a very important step which led me to study and specialize in the field of engineering as I got a lot of training from the airport and was exposed into the field. I had a personal interest in this and though I may not be involved in the aviation industry, my time at the airport really influenced my decisions on what to study and what to do once I got back.
I came back and was hired by the airport again as I had a binding contract to serve the government. I was in charge of all the vehicles and equipment and got a whole lot of experience working with heavy and complex machinery. I started off some work on the side which later evolved into what I am doing now. The desire to do my own business was also there and as soon as my bond was over I opted to pursue the dream of building something on my own. The drive to be my own man and to start something new was always there since I was a schoolboy and I figured this was the right time.
We started off in 1991, along with my wife and worked from my bedroom. All financing, paper work and administrative work was done in my room and I used to do it on my own along with the help from my wife who was a school teacher at the time. The final product you see here right now is the patient work we have been doing. It was a step by step steady growth and I hired more staff and rented out an office as the company grew.
Even from the start, we have always had the idea for waste management. At the time a law had been passed requiring resorts to have on site incinerators. And hence we started providing those along with other equipment to aid the process of safe and fast waste disposal. We were lucky enough to form strong ties with a Norwegian incinerator company and provide the machinery when we started. We won the opportunity to supply to the resorts as per the law at the time for waste management.
As our company grew, we got more machinery and equipment, which in turn needed maintenance and service that required specially trained staff. Therefore, warehousing, workshops and staff quarters were required and the capital city was already congested and the rents and leases were too high. That's when I decided to move our entire operation to Hulhumale. During the first few years it was very tough. My colleagues saw me as a ridiculous businessman for moving to Hulhumaale as there were no sewage pipelines and fresh water and it was costly to move equipment from Male'. But I saw potential and we negated through the tough times. My hope and vision for Hulhumaale is becoming a reality with a port and an airport, a bridge and even cost efficient housing, the future lies here and this would soon be a business hub. We are glad to be one of the first companies to base their operations solely in Hulhumaale.
What are the challenges your company has had to overcome?
One of the biggest challenges that I face is getting the manpower and the human resources. Developing and nurturing a professionally trained staff is really difficult. We have sent numerous staff overseas for training. And at our level I have established a training center at our facility with professionally trained foreign staff to train the youngsters who sign on with us.
I thought we would face many difficulties when we moved our showroom and other facilities here to Hulhumale, but with the current development projects of the yacht marina, land reclamation, more people would move and we would be here spear heading business development on the island.
How has ILAA Maldives done things differently to become one of the leading firms in the industry?
We provide different products ranging from incinerators, buggies, heavy machinery along with generators and marine engines and marine generators from the world famous manufacturer, Caterpillar with warranty and after sales support. We provide the necessary training for resort staff so that they can be self-sustainable and manage the equipment we sell.
Another difference is the environmentally friendly outlook of our company. The design of the head office incorporates to a great extent recycled materials with a massive garden and greenery to bring about a fresh minimalistic look. Part of our electricity comes from solar panels and we have plans in effect to provide the power for our whole office from renewable sources of energy, treat our waste water to be reused for gardening and harvest rain water for our own use. We also encourage the green movement and as we operate in the waste management industry we want to lead by example. Maintaining a green environment is a key objective of our company and we provide energy efficient products to all our customers.
What are the biggest accomplishments of ILAA Maldives?
The rate in which we grew is the biggest success of our company. From providing just incinerators we grew into a large company that acquired authorized dealerships including that of Caterpillar, which is one of the leading heavy machinery brands.
The fact that we one day got up and moved out of the congested capital and moved to Hulhumale is in itself one of our biggest accomplishments. And having created the persona of being green despite operating in a largely waste management and heavy machinery supplying industry. From the furniture to the walls and structure is fully designed in house. It's not that we couldn't get or afford the readymade furniture or construction materials but it was always our mission to show our ingenuity and to become a more "green" company and move beyond the norms of corporate culture.
Where would you like to see your company in the next few years?
Our goal is to produce and manufacture or at least assemble some of the machinery in the country and open up the country's economy to diversification. We need to lessen our dependency on imports and try out best to manufacture and assemble it in the country using resources and man power available. It's a competitive market and this is one of the many ways to reduce costs in the long run and develop the country and its people, and we at ILAA would like to be at the forefront when this happens.
To any young entrepreneur out there my advice, from my own personal experience, would be to work hard with dedication and commitment. Be organized, learn the skills and the knowledge and work your way up step by step and be patient in business to attain professional success