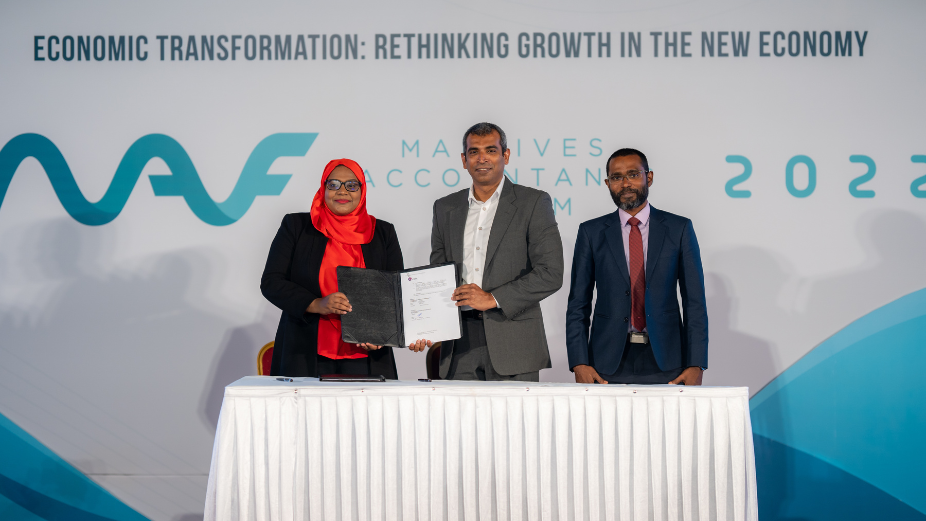 The Association of International Certified Professional Accountants, representing the American Institute of CPAs and The Chartered Institute of Management Accountants (AICPA & CIMA) and the Institute of Chartered Accountants of the Maldives (CA Maldives) signed a Memorandum of Understanding (MoU) to deepen the cooperation between the two professional bodies to elevate the skills of current finance, accounting and business professionals, and attract new top talent to the profession.
Through this partnership, both organisations agree to:
Help current finance, accounting and business professionals develop the technical, business, digital, people and leadership skills needed to succeed in a rapidly evolving and uncertain business world. They will have access to a range of resources including thought leadership reports, online courses, webinars, and conferences. 
Further, their efforts to increase the number of qualified management accountants in the Maldives by encouraging current and prospective candidates to complete CIMA's CGMA Professional Qualification and earn their Chartered Global Management Accountant (CGMA) designation. 
Cooperate to increase awareness of the management accounting profession and the range of career opportunities it offers to talent from all backgrounds by engaging with university students and academics, finance, accounting and business professionals, and the general public.
Zahara Ansary, FCMA, CGMA, Country Manager – Sri Lanka and Maldives at the Association of International Certified Professional Accountants, representing AICPA & CIMA, said: "AICPA & CIMA and CA Maldives have been successfully collaborating for several years and we are pleased to be able to continue our collaboration. We know that the accounting and finance profession has significantly changed over the past decade, but through our collaboration our future and current finance, accounting and business professionals in the Maldives will be able to acquire the knowledge and competencies they need to confidently enter the workforce and build successful careers."
Hussain Niyazy, ACMA, CGMA, Auditor General and President at the Institute of Chartered Accountants of the Maldives, commented: "We are excited to sign this MoU with AICPA & CIMA. This is a significant milestone in our mission to strengthen the accounting and finance profession in the Maldives. In a constantly changing business world where organisations need to stay relevant while achieving key financial goals, the management accounting skillset has become more prominent than ever. We are confident that this collaboration will create excellent opportunities to build skilled and competent finance, accounting and business professionals in the Maldives."