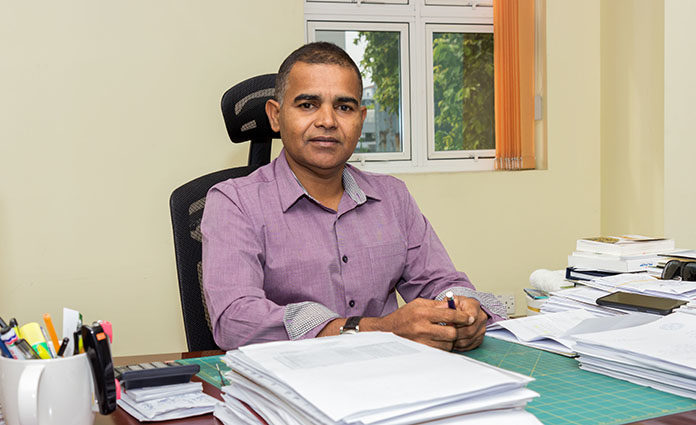 by Mohamed Khoorsheed & Zakwaan Asim
Being able to choose and dedicate your life to a career at an early age, learning and gaining experience on the job and making your company into a success story whilst juggling your personal life is everyone's dream. A dream that Mr. Amir Mansoor of Lily International has made it a reality and is living proof that hard work and dedication does lead to success. Corporate Maldives sat down with the man behind one of the most successful and enduring business companies in the country to get an insight into how the mind of a successful businessman works.
Let's start from the beginning. How did you get started down this path?
I started down this path real early in my life. I was in Grade 8 when I started working part-time and found that I was really interested in the business side of things. At the time I was working three part-time jobs at Safari Tours, Alia Furniture and Kashimaa. I worked for a small wage and usually did translation, accounts, faxing, telexing and meeting with foreign parties and whatever odd jobs that came up during the usual office hours.  After I finished my O Levels I immediately joined the Audit Office. Though I worked full-time there, I still helped out at Safari Tours as well. After three years working at the Audit Office, I decided I wanted work outside the constraints of a Government system and move to the private industry. When I approached the owner of Safari Tours and told him that I had been offered a job to be the Manager at Giraavaru, he convinced me to work full time at Safari Tours instead and offered me a higher salary and incentives. So I worked with Safari Tours for 14 years and it was a very important time for me since I learned much and gained a lot of experience doing all kinds of jobs. During that time, I did various other odd jobs, even captained small fishing boats, exporting fish, and supplied fish to resorts on the side.
However, in the end I left Safari Tours during a turbulent time when the reins of the company were handed over to an Italian company. Afterwards, I gathered ten fishing boats and started a fish processing factory at Meemu Muli. Sometime later, due to various problems, I had to stop operations at the factory and it was at this point that I decided I was ready to begin something on my own. Uni Foods, dedicated to importing and distribution of food stuffs across the country, was my very first company. I imported staple foods along with a few branded items such as Avian, San Pellegrino Fonterra and Nestle, at the time. Even though it was a small business we did very well at supplying to the resort market, which was direct competition for Lily Enterprises. Soon my company's market share began to increase, enough to cause concern at Lily Enterprises. Some of their executives approached me several times to negotiate a middle grounds for both companies to operate. I didn't budge and they eventually offered me a job at their company. I turned down their offer as I was making enough money on my own at the time as I was the owner of my own company and hence in charge of all the decision making. However, Lily was persistent and after a lot of negotiations I finally agreed to become a shareholder at Lily Enterprises. I was allowed to continue to operate my business same as before under the Lily Enterprises umbrella.
Eventually, I rebranded the company into Lily International, the company that exists today. I also formed Lily F&B Suppliers and Lily Bonded Warehouse, all operating under the Lily umbrella. Since the early 2000s all the companies under Lily have seen immense growth, every single year. There have been a lot of changes as well. We have rebranded Lily Bonded Warehouse to Grape Expectations, which mainly supplies alcohol and cigarettes to the resorts. Due to the nature of the business, the company employs mostly foreign staff. Either way, I'm happy to say that today Lily International is at the top of the game in all of our endeavors.
It can't have been easy to achieve all the things you have in your life. What would you say were the biggest challenges you've faced so far?
If you don't face challenges, you are definitely doing something wrong! I believe that we are here to face challenges and find ways to overcome them. That's what makes being in business worth it. Every day I have to face new challenges and find solutions to stay on top of the situation. Government bureaucracy, laws and regulations, they all play an important part in the daily challenges my company and I face. If you don't adapt and change and follow the rules and regulations, you might as well pack up and give up. We should always follow the rules meticulously and make sure you're within the law.
And then there's the competition. I'm not saying it's bad but without competition how can we grow as a company or individuals? We should welcome competition as it is the only way to grow and expand, build relations, provide better products and services to our customers. This will lead to development and progress of the economy.
Another major challenge that my company have faced regularly over the years are the seasonal changes. Being 80% in the resort supply market means that we are prone to fluctuations in the market. We always do meticulous market research and always try to stay one step ahead. This is the area where you need be smart and use the expertise you have at your disposal with qualified employees to ensure the company runs smoothly. Getting local expertise has been a tough job for us though. There is no work ethic among young Maldivians and we need to build a corporate culture here to ensure that future generations of Maldivians develop this essential skill. This is why many companies, including mine, have been forced to hire foreigners to do jobs that we can easily train our youth to do.
Another big challenge for us was the 2004 Tsunami. That catastrophic event nearly decimated our entire tourism industry. With a heavy heart we had to shut down several warehouses, making a lot of people jobless, in order to cut costs. However, it had to be done. During that time, we helped resorts that were affected by the tragedy. It was a time of crisis but we didn't flinch or show any weakness and moved forward with the same determination we had always shown. A similar situation arose during the Gulf war also, when the tourist numbers were at an all-time low. But we pulled through due to excellent planning and the hard work of our dedicated team.
Lily Enterprises have obviously had a huge impact on the economy of the country. Why do you think the company has been so successful?
At the start of each business year we always do research to understand the market from A to Z. We figure out our market strength and buying power. This understanding of our customers' needs is fundamental to our success. We provide machines, so if and when it breaks down our team would attend to it and get it back to running condition again. We don't just sell products, we provide a service from top to bottom to ensure our customers' entire operations function seamlessly and flawlessly all the time. We offer full solutions for everything the customer needs.
What do you believe is your biggest achievement?
That's a difficult one to answer but I will say this: I started from scratch! I have built what I have from nothing! All the struggles I endured, all the challenges I overcame to get to where I am today, that is an accomplishment. But in all honesty, the growth and expansion my company has experienced from 2000 till date is my biggest achievement.
Where do you see yourself and your company in the near future?
I want to double the company's production and expand into the realm of PLC and become a publicly funded company and give back to the public. The foundation for that were laid at the start, so that's my goal and hopefully some day we can make it a reality. Personally, I'd like to continue and grow in this field and in sports. I have a personal interest in all kinds of sports, especially tennis, and I'm always ready to help develop sports in Maldives in whatever way I can. This is something I already do because of my vested interest but I am looking forward to contributing more in the future.