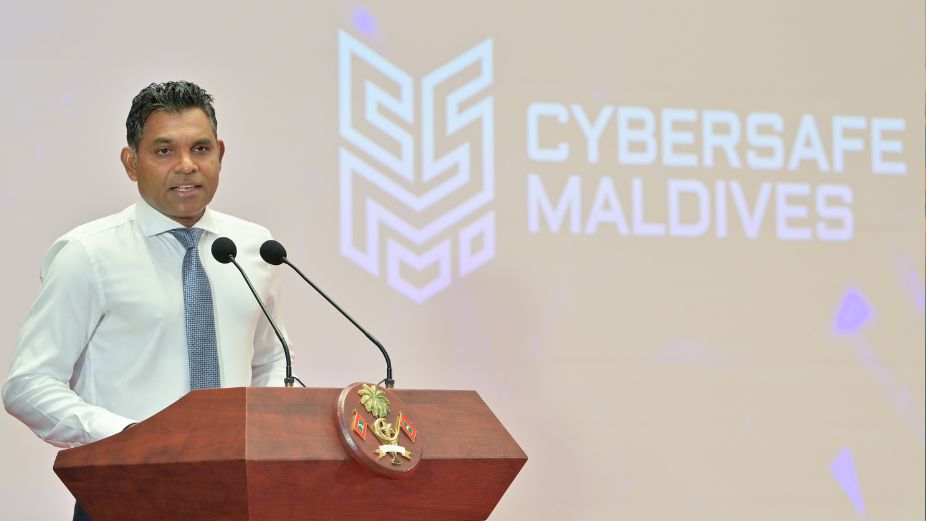 Vice President Faial Naseem on Tuesday morning stated that the national campaign 'Cyber Safe Maldives' will be the basis for safe internet and technology use in the country. The Vice President made this remark while speaking at the event held at Crossroads Maldives to officially launch the activities for National Cyber Security Awareness Month 2022.
The Vice President, in his speech, stressed the need to expedite measures for safe and secure internet and technology use. He noted that the issue was time-sensitive and the importance of planning and preparing for a safe online space. He particularly emphasised the effects of technology and online spaces on children, stating that there would be harmful consequences if preventive measures were not enforced, and highlighted the necessity of educating parents and caregivers about the negative impacts of digital services on children.
Vice President Faisal Naseem, in his speech, spoke about the crucial role of the internet and digital services in this day and age. He said that during the Covid-19 pandemic, the pervasiveness of the internet in everyday life had been especially evident. He also shed light on the harmful impacts of online services, particularly on social media platforms.
The activities planned for National Cyber Security Awareness Month are part of a broader 'Cyber Safe Maldives' national campaign. The events scheduled for the month include public talks, expert panel discussions, as well as training sessions and capacity-building on cyber security. The program's information sessions cover four major topics: Internet Safety for Children, Phishing and Personal Security, Ransomware and Malware Prevention, and Response and E-Commerce Safety.
Initiatives have been planned throughout the month of October to increase awareness about cyber security and encourage people to stay safe online. This includes a total of 28 activities, including seven training programmes, three panel discussions, and 16 awareness sessions.
This morning's event was organised by the Ministry of Environment, Climate Change and Technology and the National Centre for Information Technology.