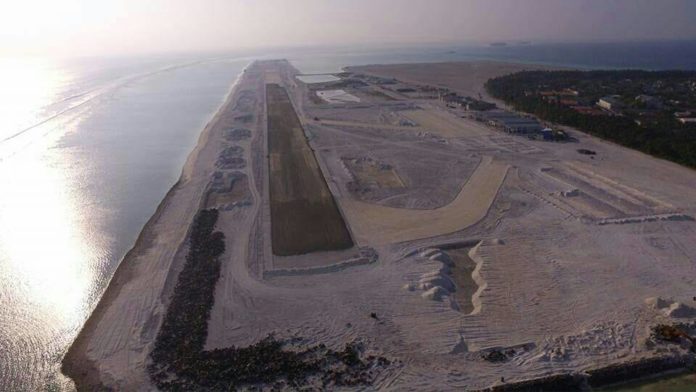 Dhaalu Airport, located in Dhaalu Atoll, which was developed by reclaiming land from Dhaalu Kudahuvadhoo lagoon, has seen its maiden landing this morning.
The first landing at Dhaalu Airport saw Minister of Tourism Moosa Zameer, Kuda Huvadhoo Majilis Member Ahmed Amir, Civil Aviation CEO Hussein Jaleel and Island Aviation Services M.D Abdul Haris arrive at the airport. Tourism Ministry reported that the airports maiden flight, a Maldivian aircraft landed at 9:27 am.
According to developer Reolo: "In the coming days, we expect to start schedule flights with at least one flight per day via the national carrier Maldivian".
All aspects of the approximately USD 20 million project was self-funded by Reolo Holdings. Dhaalu Airport was built by reclaiming over 62.8 hectors of land to build an 1800-meter-long runaway while being able to cater to 42 aircraft's at a given time. This includes the commonly used Dash-8 and ATR-72 aircraft's for domestic travel. Dhaalu Airport becomes the first ever domestic airport to cater to private jets.
Feature Image: Dhaalu Airport