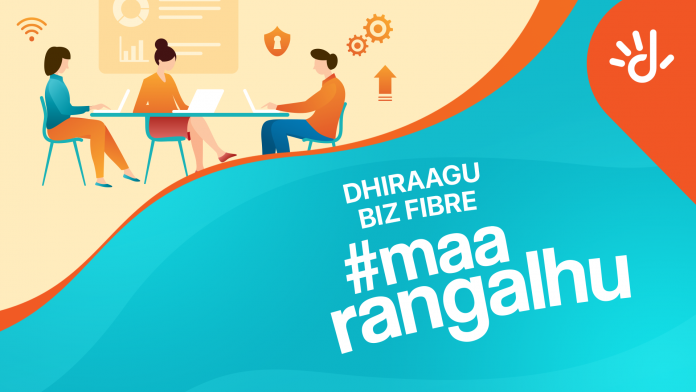 Dhiraagu has announced a major revamp on its Biz Fibre Broadband packages offering business customers more data, and fastest broadband speeds for the same price.
With the newly upgraded packages, Dhiraagu hopes to offer greater value to small and medium business customers. Their existing business customers will not have to spend anything extra to enjoy an additional 40% to 100% of extra data and experience better speeds than ever before. The extra data and speeds allocated will depend on their packages. All Biz Fibre Broadband package upgrades will be fully implemented by the first week of September 2020. Dhiraagu Biz Fibre customers can find out more about the upgrades here.
In order to help business customers to increase productivity, efficiency, and achieve business growth Dhiraagu is also offering a one-year FREE Virtual Meeting Room service for customers who are on Biz Fibre Basic 10M package and above effective 1 September 2020. Dhiraagu Virtual Meeting Room service is a cloud-hosted collaboration tool, which provides audio and video conferencing with local dialling service and no equipment to deploy or manage. Businesses can now virtually conduct their meetings for FREE without any time-bound restrictions. To further boost productivity, customers can also purchase our Microsoft Office 365 add-ons and achieve more with innovative office apps, intelligent cloud services, and world-class security.
"As we all are adapting to a new normal, digital technology is playing a vital role in how we conduct businesses. We hope that this revamp together with the valued added services we are offering will enhance the digital journey and increase the digital capabilities of our business customers," stated Musthag Ahmed Didi, Director Business Solutions at Dhiraagu.
This revamp is a part of the company's continued commitment as the digital enabler for small, medium and large enterprises in the Maldives to help connect and optimize their operations for the digital age.
These upgrades are brought following a major revamp on Dhiraagu Home Fibre Broadband packages that were announced early August 2020. Dhiraagu provides unparalleled high-speed Broadband experience to communities in 61 islands across the country making it by far the largest and fastest fibre network in the country.
For more information on the upgraded Biz Fibre Broadband packages, please visit here.