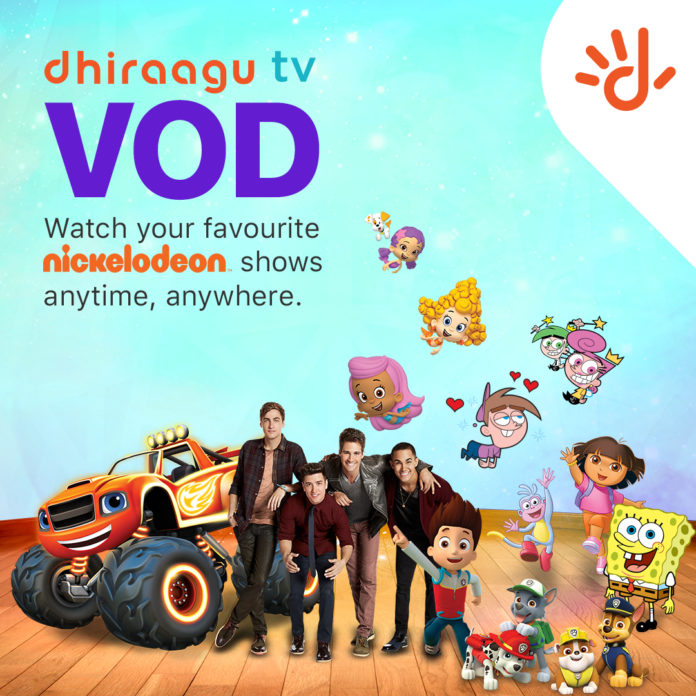 Dhiraagu has made Nickelodeon, the number-one entertainment brand for kids, available to DhiraaguTV customers through their newly introduced VoD platform.  As a promotional offer, the VoD feature is enabled to DhiraaguTV customers who have subscribed for the Basic Package and above, free of charge until 31 December 2019.
Nickelodeon is part of the bouquet of channels from Viacom International Media Networks (VIMN). With the addition of Nickelodeon, VIMN now has two channels on DhiraaguTV, the first being Paramount Channel (Channel 98) which is on DhiraaguTV's Add-on Excitement
Additional content will also be made available to customers and  the VoD library will be enriched with both local and international content. VoD is an innovative feature that will redefine how customers use and consume media. This feature enables DhiraaguTV to provide a wide range of entertainment options to their customers that can be conveniently accessed – anytime, anywhere.
Their VoD interface has been designed for an accessible and user-friendly experience through simplified menus. This design will ensure that our customers can enjoy a hassle-free experience while navigating through their catalogue. By clicking the VoD button on the home-screen, users will be able to access and scroll through the content.