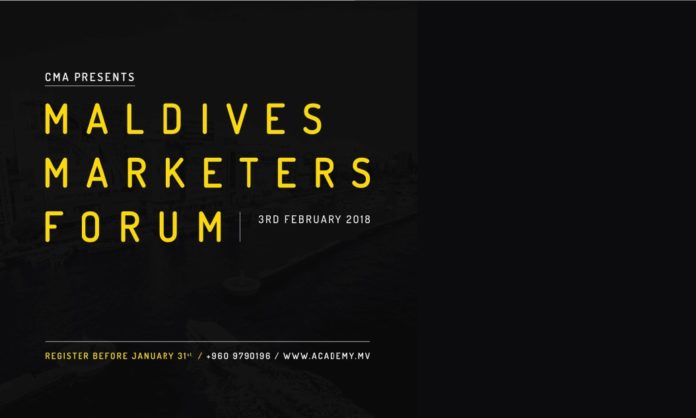 Excitement is building for the first Maldives Marketers Forum scheduled to be held on Saturday, 03 February, as organizers Corporate Maldives Academy (CMA) makes their final preparations for the prestigious event aimed specifically at the Business and Marketing community in the Maldives. More than 200 participants have registered for the forum and venue is been changed to MNU Business School Auditorium to facilitate a large number of participants.
The event will include two special workshops from overseas trainers, keynotes and presentations from experts in the industry and a panel discussion. The forum will link leading figures in the industry with sector stakeholders such as media houses, advertising agencies, Digital Marketers and corporates.
It interesting to note the participants profile – out of the registered participants 10% comprise individuals while 90% are corporate participants.Almost all the registered participants are directly or indirectly working in the industry of marketing, PR, or sales. Approximately 20% of the participants are from Executive category and 70% is either Senior or middle management. 10% of the participants are undergraduate students or interns. This interesting pool of participants coming under one roof to share knowledge and network will be a rare opportunity.
World-renowned high-end trainers, as well as local experts, are expected to share their ideas, opinions and insights in the event. The Marketing Forum is a complimentary business-networking event catered to senior-level professionals (Directors, Vice Presidents, and CMO's), that will help you make marketing choices that will drive your business forward.
The Forum is sponsored by MTCC and Co-sponsored by WAMCO, STO & M7 PRINT. SYMPHONY is the official catering partner. MERAKI COFFEE ROASTERS and CHAMPA CENTRAL HOTEL are respectively Coffee and Hotel partners.