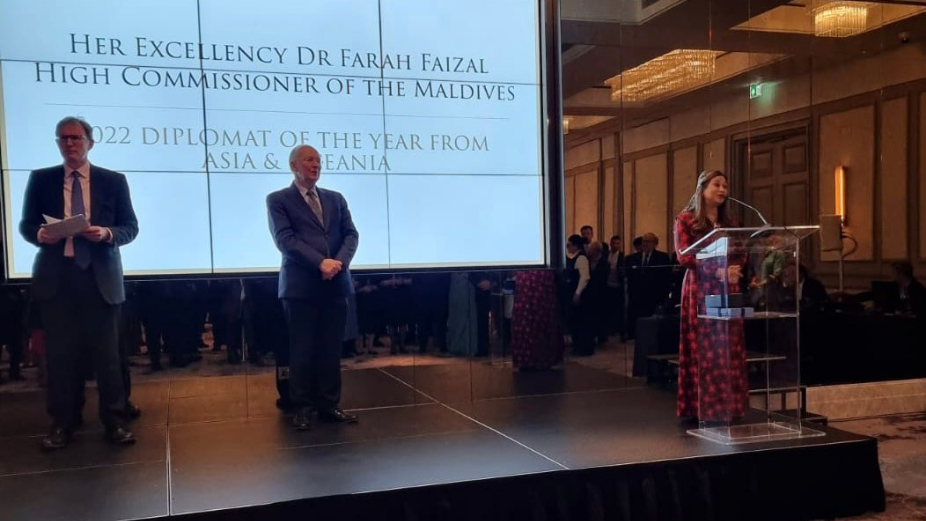 The High Commissioner of the Maldives to the UK, Dr. Farahanaz Faisal has been awarded the 2022 Diplomat of the Year for Asia and Oceania.
During the ceremony, High Commissioner Farahanaz thanked the Diplomatic Corporations and Diplomatic Magazine as well as her team at the High Commission of the Maldives in London for the award and said she was deeply honored to win the award and emphasized that it was a proud moment for Maldives.
Furthermore, the Minister of Foreign Affairs also congratulated High Commissioner Farahanaz for her astounding work and her win. Additionally, he gave her commendations for promoting and safeguarding the interests of the Maldives.
The Diplomat of the Year is a prestigious award, which is given out to the individuals who receive the most votes from diplomats from over 165 diplomatic missions in the UK. The award is given to 10 diplomats each year. The award ceremony is organized by the Diplomat Magazine, which is the leading foreign affairs publication, with a membership of over 185 government representatives in London, which focuses on intelligent discussion from the diplomatic community.