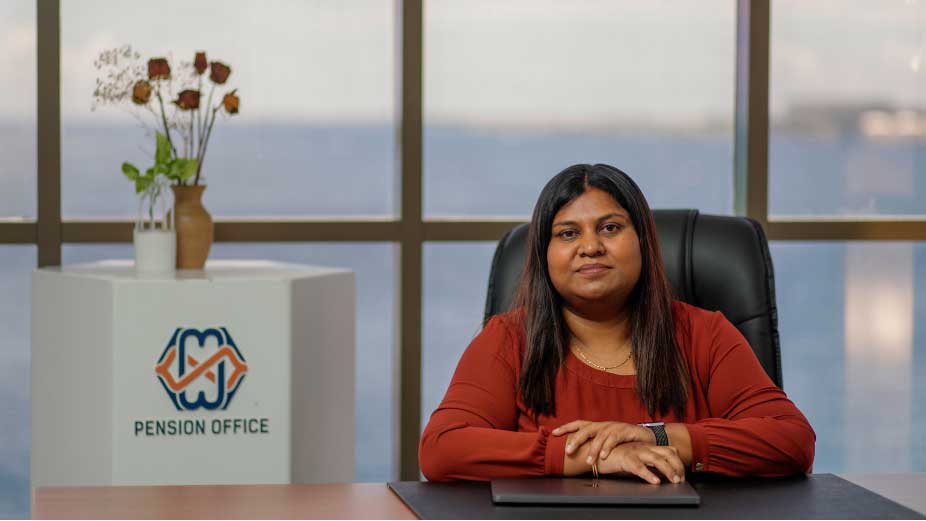 Fathimath Sujatha Haleem is the Chief Operating Officer of the Maldives Pension Administration Office (MPAO), an independent legal entity formed to administer and manage pension schemes in the Maldives. Our team sat down with Ms. Sujatha to find out more about her career, and to delve deeper into the work carried out by MPAO.
Could you tell us about your career thus far? What drew you to this field of work?
I had started my career at the Bank of Maldives and then moved on to the Ministry of Finance, where I worked with a number of multi-lateral organisations on different projects, which made me very interested in project work. I joined the pension reform as a project manager for the World Bank. That's where it all started back in 2008, when I joined as a project manager which led the reform work for the Maldives pension system. I worked as a project manager until we successfully closed down the project in 2015, and thereafter I joined the Pension Office.
What is the main mandate of the Pension Office?
The Pension Office is a statutory organisation created mainly to administer the pension law. We are mandated to run the Maldives retirement pension, basic pension, stakeholder relations, and to pass the information to the public, as well as do all the regulatory work required for running the pension scheme.
Pension is often viewed by many as a burden, being deducted from their salaries every month. But why is pension so important?
In retirement, everyone needs a constant flow of income. It's important that we are financially independent. Traditionally, we were dependent on our families to take care of us, and then we've moved on for the government to take care of us.
But it's important that as individuals, we maintain our financial independence with countries moving towards ageing population including us. We are also moving towards an ageing population. So, it would become very difficult eventually for the government to sustain the retirement of everyone.
So, in order for us to have a constant flow of income and for us to maintain our lifestyle that we have been living, it's important that we take the responsibility of our retirement. The Maldives Retirement Pension Scheme is designed in such a way that you contribute while you are working. We also aim to replace your income at retirement by at least 60% of your average salary. So, there is no huge drop in the income that you are receiving, and you can remain financially independent.
Over the years, what have been the most major milestones and successes of MPAO?
The Pension Office was formulated in 2009. We became financially independent very quick. Within two or three years, it became the largest fund of the country. We have this multi pillar system which has been very well received by different countries. We actually managed to run this very smoothly. We have the ISO certification and international social security association certifications received for different processes that we have. So, I think these are very big milestones for us.
MPAO recently launched the Koshaaru Portal, the country's first fully digital customer service portal. How will this benefit users?
Koshaaru Portal was developed by our internal team with the main focus on accessibility, reliability, security, and convenience. So now, any who has a pension account, whether it's employee or a member, can actually log into the Koshaaru system and it has a different option for whichever user that you are.
And you don't have to do the physical forms, everything can be done through the Koshaaru system, which makes it very easy and convenient for our members to use the system.