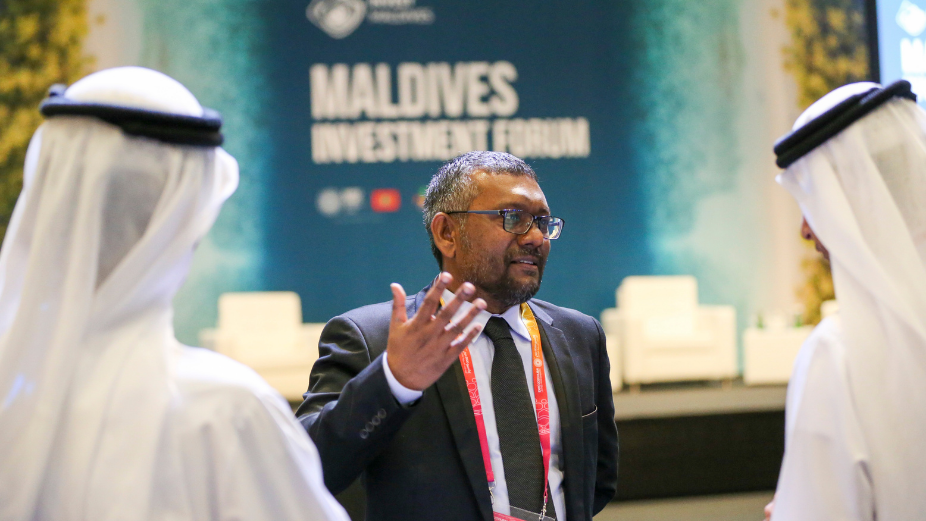 To increase the foreign direct investment in the Maldives, the Ministry of Economic Development has yesterday held the 'Maldives Investment Forum' during Expo 2020 at the Dubai Exhibition Centre.
This forum was honored by the presence of the Maldives president Honorable Ibrahim Solih as the chief guest on 26th October 2021. In addition to the president, Minister of Economic Development Alusthaaz Fayyash Ismail, Minister of Tourism Director Abdullah Mausoom, and Minister of National Planning & Housing and Infrastructure Ismail Mohamed Aslam took part in the forum. Investors, Entrepreneurs, Companies, and other business institutions from Dubai, Maldives, and other countries attended this forum.
The speech given by the President, Ibrahim Solih, highlighted the works being done by the government to increase foreign direct investment in the Maldives. He has also stated that the government is working towards decreasing the overall carbon emission of the country and increasing renewable energy sources used in the Maldives to achieve the target of being a Net Zero Emission Country by 2030. Furthermore, the president also emphasized using the richness and diversity of the Maldives Ocean sustainably.
During this Forum, Minister of Economic Development, Fayyaz Ismail also gave a speech and he has highlighted how the current government is working towards making the Maldives a convenient country to do business in. He also stated that foreign direct investments are important to the Maldives and gave information regarding the investment opportunities in the Maldives. Moreover, he has proudly presented the work done by the Maldives during the pandemic to successfully overcome the financial crisis.
The Minister of Tourism, Dr. Abdullah Mausoom has emphasized the work being done to promote Maldives Tourism such as preserving the natural beauty of the Maldives, protecting the delicate environment, and diversifying the tourism in the country.