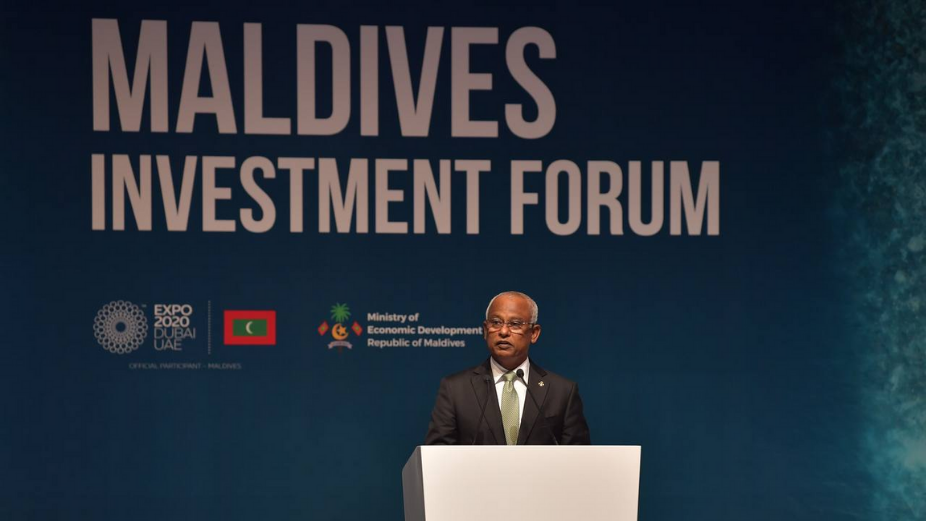 H.E President Ibrahim Mohamed Solih has delivered the keynote address at the Maldives Investment Forum and stated that the Maldives is open for business and ready to welcome investors. Maldives Investment Forum was held today at the Dubai Exhibition Center. President Solih and H.E. First Lady Fazna Ahmed are currently on an official visit to UAE to attend Expo 2020 in Dubai. A high-level Maldivian delegation accompanies them on this visit.
Delivering the keynote speech, President Solih stated that the government's topmost priorities lie in fostering economic growth through sectoral diversification, environmental sustainability and the prosperity of the Maldivian societies. He also noted that these goals were parallel to the themes presented in Expo 2020. The President emphasised that private sector development is a central pillar of the Maldivian government's economic reform agenda. He said that promoting an enabling environment entails removing unnecessary bureaucratic red tape with streamlined procedures to establish businesses, increase access to finance and ensure greater responsiveness, transparency, immutability and security for investors.
The President also indicated that the government's immediate and medium-term approach is to build a consolidated response to stimulate innovation, enable digital disruptions, and accelerate people-centred, effective, and resilient public services. According to the President, 93 per cent of resort employees and 79 per cent of the eligible Maldivian population had received both doses of the Covid-19 vaccine and been properly immunised.
President Solih stated that the Maldives is located at the crossroads of the Indian subcontinent, providing a strategic trade conduit between the East and the West. He said that the Maldives government is taking concrete steps, taking our geographic location into account, to develop the country's investment climate. He also noted that the Maldives' legal and regulatory environment had substantially improved through the various policy reforms targeted at facilitating new investments in infrastructure, transportation, services, and energy.
President continued to state that despite the Maldives' compact size, the country is leading the way in addressing the climate issue and engaging in boosting renewable energy and pursuing low-carbon development, both of which are top priorities for the Maldivian government. He also noted that the Maldives had embarked on an ambitious goal to attain net-zero carbon emissions by 2030, stressing that the Maldives depends on the international community's generous support and cooperation to help in achieving this goal.
Concluding his remarks, the President underscored that Maldivians had always relied on the sea for their livelihood and sustenance and therefore the 'Blue Economy' is a key component of the government's economic policy framework. He stated that sustainable and effective utilisation of the vast marine resources is of utmost importance for Maldivians. He also noted there is much room to collaborate with international experts to accrue mutual benefits of promoting the Blue Economy.