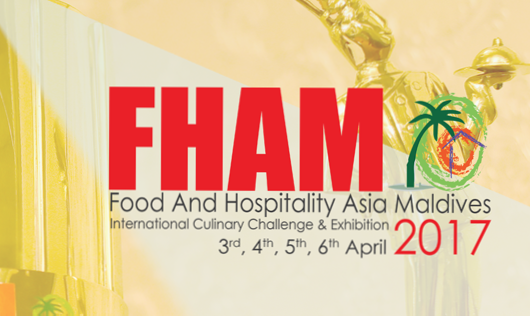 FHAM 2017 International Exhibition is poised as the event of the year for the Business and Hospitality Industry of Maldives. Over the past years FHAM has been recognized as the main gateway for business in Maldives.
FHAM 2017, "Food and Hospitality Asia Maldives" International Trade Fare is scheduled to be held from the 03rd – 06th of April 2017 at Dharubaaruge in Maldives and will feature various new and improved segments, concurrent events such as the International Culinary Challenge, Housekeepers Competition, Industrial Seminars and Workshops along with other exciting experiences stated  Imran Hassan of CDC Events and Mohamed Ajmal of Dhivehi Expo Services.
Over 5,000 buyers visit this annual event especially from Maldives including Sri Lanka and the South Asian Region. 150 exhibitors from over 25 Countries participate at the exhibition offering International Acclaimed Products and Services. This is one of the largest hospitality industry gatherings in Maldives. Local and Foreign Nationalities includes VIP's, exhibitors, trade visitors, seminar speakers and delegates, WACS acclaimed judges and competitors, and members of the local and foreign media.
Maldives has opened its doors to 1,500,000 tourists per year with a local population of approximately 317,280 and around 70,000 foreigners working across 120 resorts out of which 20% of the resort market is controlled by Sri Lankans, namely John Keells, Aitken Spence, Mount Lavinia Hotels and Amaya etc.,
FHAM has continued to be a platform for exhibitors to showcase new and innovative products and is the chosen sourcing ground for many international buyers. Its relevance to the food and hospitality industry in Maldives remains as vital and effective today, as ever before. It has been noted that after and during every event business in Maldives has a significant rise and FHAM has a positive impact on the Maldivian economy.