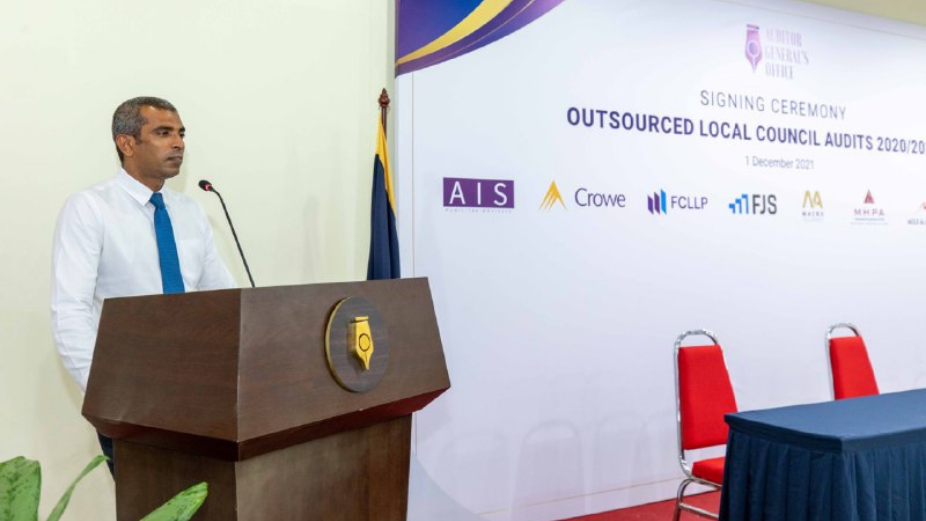 The Financial Audit 2020 and Compliance Audit 2021 of various local councils have been handed over in a ceremony held at the Auditor General's office.
This Chief Guest of this ceremony was the parliament member of Hulhumale constituent, Mr. Ali Niyaz. The Audit bid of the Local Councils was won by 8 audit firms which are Crowe Maldives, FJS Association, MHPA, FC LLP, Miles and Association, Prudent Chartered, Macro Assurance, and Audit Standard LLP. The financial statement, audit, and compliance audit of 110 local councils for the year 2020 have now been handed over to the firms to be completed before 30th May 2022.
Mr.Hussain Niyaz has stated that although the audits of 2021 and 2022 are being carried out, a special audit request for a previous year will be taken and audited. Additionally, he has also stated that the main reason for outsourcing audit is to prevent increasing the government expenses by hiring people and allow existing audit firms in the private sector. Moreover, the government plans to hand over auditing contracts for 2-3 years to private sector firms if the audits handed over now are completed well.
The Auditor General has also sent his best wishes to all the people who held the Auditor General presentation on the occasion of the 73rd Anniversary of the Audit office.
Mr.Hussain Niyaz has also emphasized the changes brought to the law to implement a decentralized system in the Maldives and this change gave the power to local councils. Therefore, a budget of MVR 1.5 billion has been allocated for the upcoming year. In addition to this, he has also highlighted that this change enabled the creation of more job opportunities in different areas of the Maldives with the establishment of regional audit offices.
The CEO of LGA, Mr.Afshan Latheef, has stated that they will assist the Auditor General's office to work and empower local councils. He also stated that the Auditor General's office plays the most important role of making the local councils responsible and become more financially responsible.