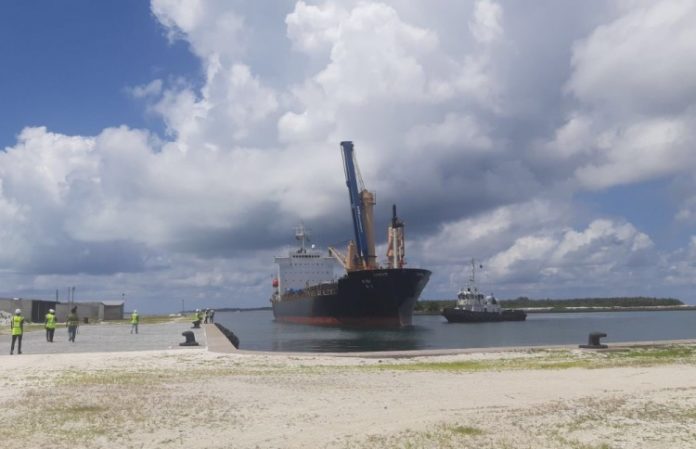 A commercial habour of 1,300 meters in length was opened in A.Dh Maamigili on May 2018 and its first ship, MV KIBI has been docked at the ports today.
The crews of this Singaporean Ship who brought the cargo needed for the projects, were given a celebration feast by the locals of Maamigili. The workload of Male' Harbour would be given a huge relief due to the Maamigili Harbour.
The CEO of Maldives Ports Limited (MPL), Mr Ibrahim Abdul Razzaq Haleem and the Commissioner General of Customs Mr Mohamed Junaid joined the welcoming ceremony of the crews from MV KIBI.
The CEO of MPL spoke about the assistance provided by Economic Ministry and Housing Ministry to solve the difficulties caused to develop this harbour.
He also said this harbour would benefit locals of Maamigili because of the increase in job opportunites.
Project plans have been made for opening a warehouse, a cold storage services, a slip way for boats, a boat yard, a yacht marina and guest house services.
The MV KIBI Harbour and the Maamigili Airport was built by the Chairman of Villa Groups Mr Gasim Ibrahim. This is the largest harbour in the Maldives used for commercial purposes. Six hundred metres of the harbour would be used for national operations by MPL.
MPL also manages business ports in S.Hithadhoo, H.DH Kulhudhufushi and Hulhumale.