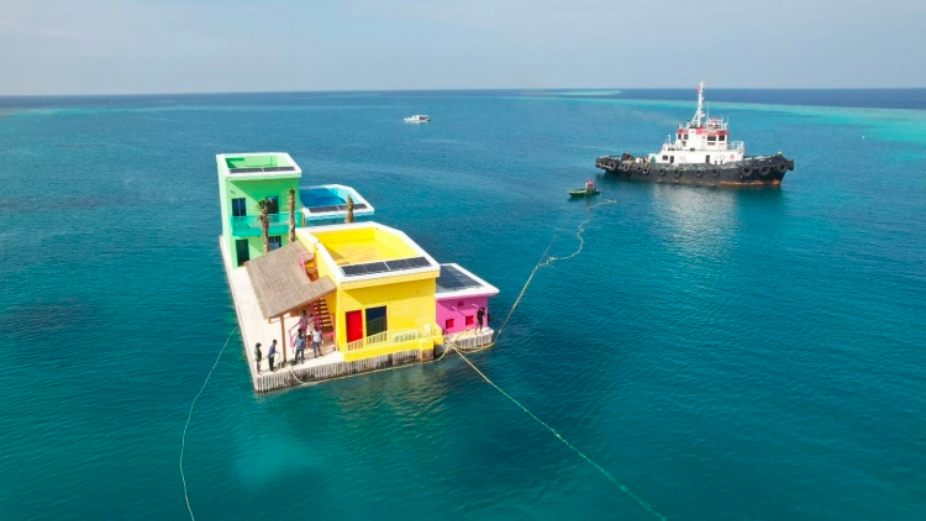 Leading indigenous construction company, Bison Maldives has announced that the Maldives Floating City's first mock-up unit has been installed in the lagoon.
Maldives Floating City was officially launched in 2021 and contracted to Dutch Docklands. Bison Maldives signed a contract with Dutch Docklands Maldives in 2022 for this project. The project is said to be based on the local seafaring culture of the Maldives. The drawings of the floating city were shown to the public in October last year.
This billion-dollar project uses the latest technology from the Netherlands, where engineers have already completed floating housing projects. The 5,000 housing units will be tethered to the lagoon floor and linked together to create a safe and comfortable environment.
A 200-hectare lagoon near Aarah was given to Dutch Docklands Maldives to carry out the project. The environmentally friendly floating city is planned to include both housing and tourism. In addition to 5,000 land plots, the project will include a yacht marina, two five-star resorts, and small picnic islands. There will also be a hospital, a school, a shopping mall, a council, and government offices.
Over the years Bison Maldives has established a strong reputation with successful construction solutions and has become an authorized agent in the Maldives for construction-related materials with various international brands. With over two decades of experience, Bison Maldives promises distinct service, experienced staff, a fleet of plant and equipment, the highest quality materials and a reputation for successfully integrating these aspects, to ensure the timely completion of projects.