Located less than 40 miles from Velana International Airport, lies the beautiful Gaafaru Island. Barely half a mile long and narrower in width, it is a small island surrounded by its own reef and lagoon rich in marine flora and fauna. The island has been referred to as the jewel of Kaafu Atoll since it is a solitary island embedded in its own tiny atoll just outside the main chain of islands that form Kaafu atoll; almost like the precious jewel dangling from a necklace.
Pictured: Gaafaru Shipwreck
For now, one of the biggest selling points for Gaafaru is that it is relatively new to the local island tourism scene, allowing tourists lucky enough to visit a chance to see, discover, and experience an authentic Maldivian island all by themselves without bumping into other travelers.
Gaafaru is home to merely 1400 residents; with just about 200 local homes and 2 guesthouses for tourist accommodation. "Burulu Falhu" surrounding Gaafaru is known to be the second largest lagoon in the entire country. With such a huge natural resource to be enjoyed, the island is a heaven for snorkeling, water sports activities, scuba diving, and even free diving, the regular Maldivian serial leisure activities. The shipwrecks found along its own house reef also make for exceptional diving and are very popular snorkeling spots as well. A frame-like piece of debris found near one of the more popular shipwrecks is a famous tourist Instagram spot, one of the must things to do in the island.
Gaafaru is in close proximity to not one, but two beautiful sandbanks. Just minutes away, one can indulge and own a sandbank for themselves for a couple of hours – one that should definitely go into the diary book of a traveler. Turquoise waters surrounding the lagoon is home to numerous friendly turtles. It is unlikely you will miss coming across one of these friendly chelonians if you visit the island and go on a snorkeling trip.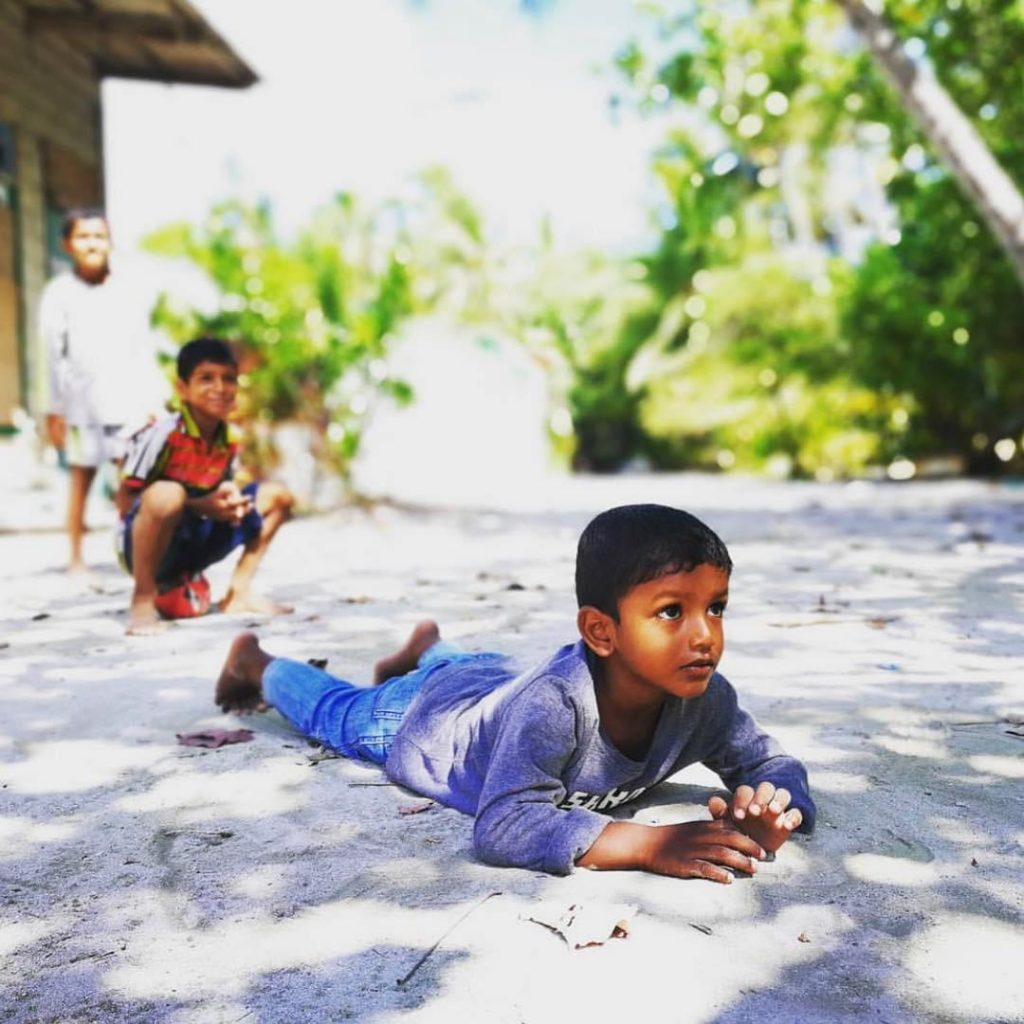 Another factor that goes into a budget traveler's wish list is fishing. Although Vaavu Atoll (often referred to as WOW Atoll by travelers seeing the beautiful atoll for the first time) known for fishing in the country, Gaafaru is one of the best locations near to the capital that has the popular and exciting fishing spots. There's nothing like the adrenaline rush of feeling a pull on your line as a fish bites the hook, and the excitement and suspense only grows as you pull it in, not knowing what you have caught, only making assumptions on the weight and the fight it's putting up.
Once you've caught your fill it's time to head back for some fresh barbecued fish. Putting up a BBQ pit on the road right in front of your house is normal in Gaafaru. Building the fire, stoking it and dousing it to keep it at the right temperature, laying your catch in a line across the grill over the burning coals and flipping it over periodically; it's all still a fun part of the entire fishing experience in Gaafaru. Like most fishing islands, Gaafaru residents have their own secret BBQ sauces, ingredients, and techniques that give the fish a distinct flavor that sets it apart. Ask nicely, and maybe some of the locals will even share their secrets, as everyone gathers around to devour the perfectly grilled reef fish in the smoky atmosphere.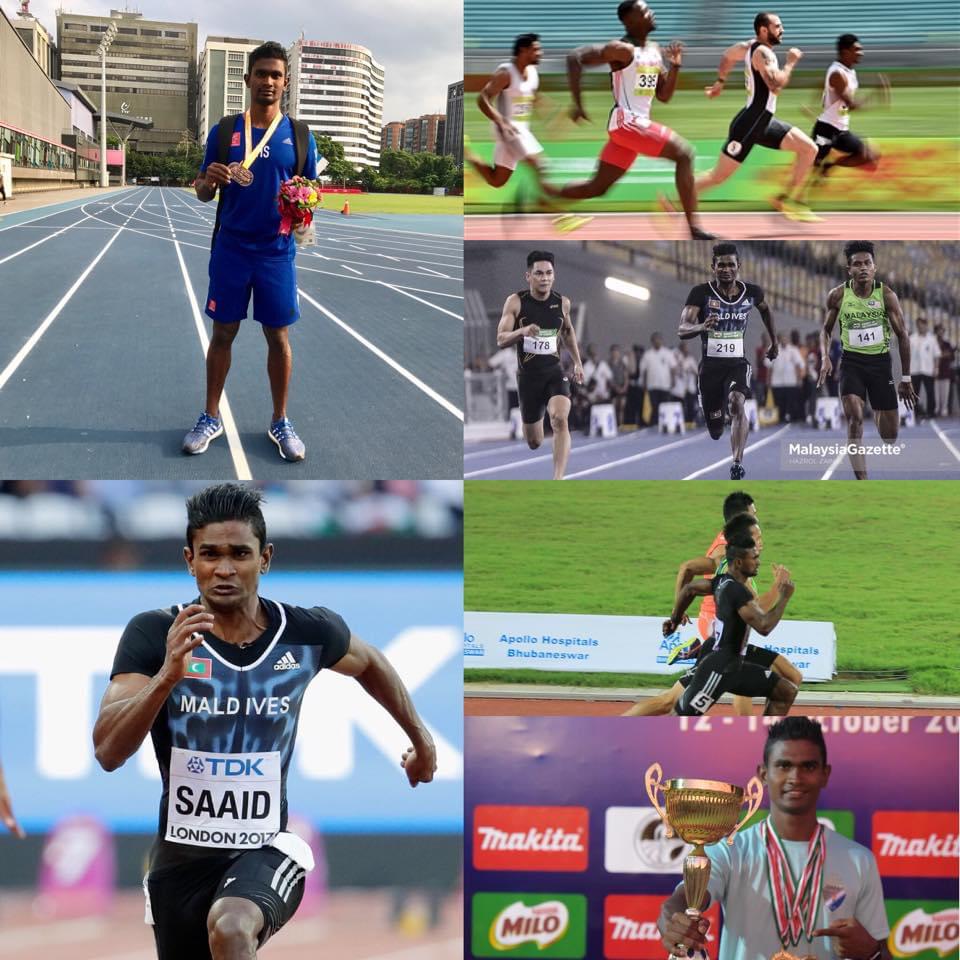 Almost all inhabited islands in Maldives have their own local celebrities that have earned the status through one way or another. Gaafaru is also home to a few of these celebrities. One of them is known as the fastest man in Asia, Hassan Saaid. Saaid is a Maldivian athlete specializing in sprints (running) and has represented the country in 2010 and 2014 Commonwealth Games, as well as the 2010 and 2014 Asian Games. He is also a soldier serving the nation with the Maldives National Defense Force (MNDF).
From Left: Ali Maais (mattu) one of the best futsal players / Middle: Hassan Saaid fastest man in Asia with Usain Bolt, fastest man in the world / Right: 2 brothers Saaid (left) and Mattu (middle)
Another celebrity is one the best futsal talents in the country, Ali Maais (aka Mattu). Maais has netted hundreds of goals in various local competitions and has been named among the top 5 futsal players in the country in numerous occasions.
Gaafaru is on the emerging as a popular destination in local island tourism, with a few guesthouses catering to guests who come to visit and experience the simple island life, the beautiful lagoon and the fishing excursions on offer. Three men have devoted their time to this transformation.
From left: Ahmed Imran with a tourist family visiting his guesthouse / Middle: Mohamed Shinan (Middle) with Minister of Tourism / Right: Ibrahim shareef (left)
The first is Mohamed Shinan (aka Kattey), with a background in accounting and has contributed over 10 years to Liveaboard tourism (Safari vessels) before bringing his experience to the promotion of local island tourism. Ahmed Imran is the second, the first person to develop a registered guesthouse in the Gaafaru: Mirian Sky Hotel. He is recognized as paving the way and opening the doors to local island tourism in Gaafaru. Ibrahim Shareef is third, a former Atoll Council member, who has worked tirelessly with Shinan and Imran to promote the island as a fun and beautiful tourist destination.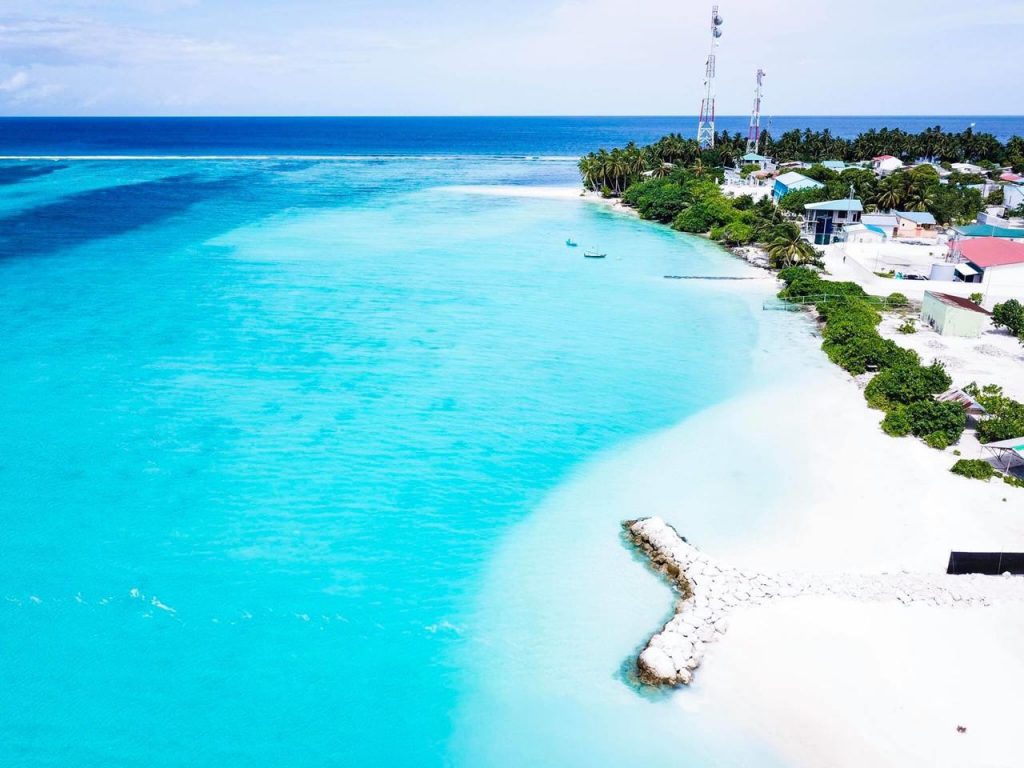 All three worked together with many others from the island to allocate a separate private beach area for tourists, and building the basic infrastructure, such as transportation and leisure activities, that have brought local island tourism to where it is in the island today. Their dream is to make Gaafaru one of the best local island for tourists in the atoll.
Editors note: This content is endorsed by Ministry of Tourism and Maldives Marketing and Public Relations Corporation (MMPRC).