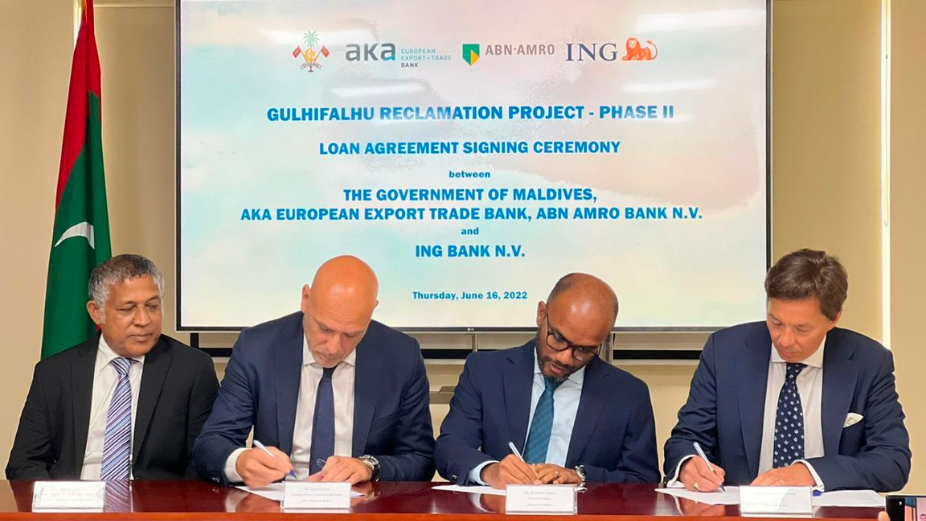 The Government of Maldives on Thursday has signed a loan agreement of EUR 101 million with ABN AMRO Bank N.V., AKA European Export Trade Bank and ING Bank N.V. for the Greater Male' Reclamation Project Phase II.
The agreement was signed by Minister of Finance Ibrahim Ameer on behalf of the Government of Maldives. Mr. Willem Van Nuas, Director, ING Bank, signed the agreement on behalf of ING Bank and AKA European Export Trade Bank. Mr. Yust Kisars, Head of Export Finance, ABN AMRO Bank signed the agreement on behalf of the bank. The ceremony was attended by Minister of National Planning Mohamed Aslam and senior officials of the Ministry of Finance.
The main purpose of the project is to reclaim Gulhifalhu, and develop a new port in Gulhifalhu and relocate the Male' International Port currently in use in Male' City to Gulhifalhu. The project will establish a port suitable for the Maldivian economy in the future.
In addition, the congestion at Male' Port will be resolved, the domestic traffic flow in Male' will be eased, and the land space in the city will be increased. The project will also provide opportunities for the Maldives to develop its economy and increase economic activity in the country.
The project is an important part of the Greater Male' Development Plan as per the Strategic Action Plan for 2019-2023.