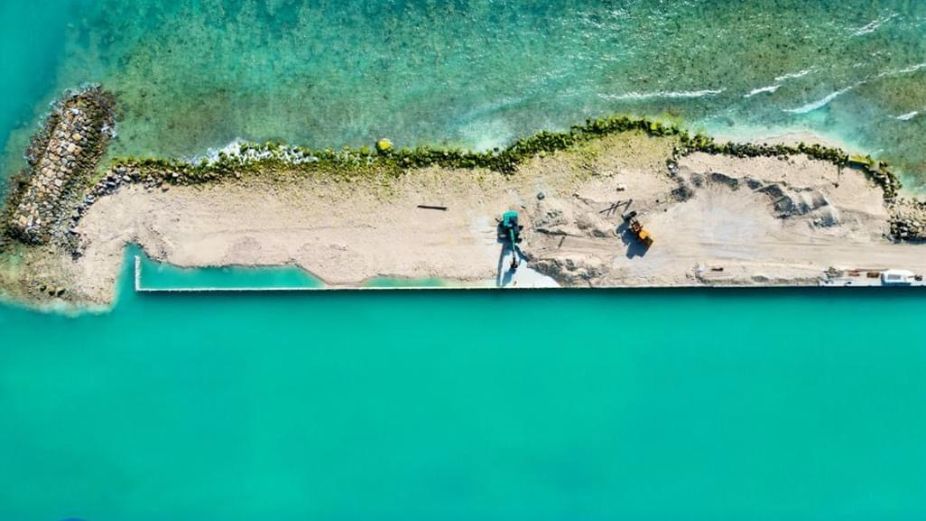 Maldives Transport and Contracting Company (MTCC) is currently working on the HA. Dhidhdhoo Harbour Extension & Jetty Construction Project, with an impressive 70% of the project already completed. The project is aimed at expanding and upgrading the existing harbour infrastructure on the island of Dhidhdhoo to facilitate better connectivity and support economic development.
The scope of work for the project is extensive and includes dredging and excavation operations of 78,000 cubic meters, construction of a 378-meter breakwater, construction of 58-meter groynes, 478-meter revetment, and 630-meter quay wall. Additionally, 6,858 square meters of harbour pavement will be constructed, along with the installation of a jetty and navigation and harbour lights. The project is valued at MVR 70.59 million.
One of the most significant milestones in the project has been the completion of the variation quay wall block installation work. Additionally, the new harbour basin dredging operations have reached 92% completion, indicating that the project is well on track for timely delivery.
The expansion of the harbour infrastructure will enable more vessels to dock at the harbour, improving the island's accessibility to trade and commerce. The project will also lead to more employment opportunities for locals, boosting the local economy and improving living standards.
MTCC, the leading civil and marine constructor in the Maldives, has an impressive track record of delivering high-quality infrastructure projects. The company's expertise in maritime infrastructure development, including harbour construction, has been critical in executing this project efficiently.