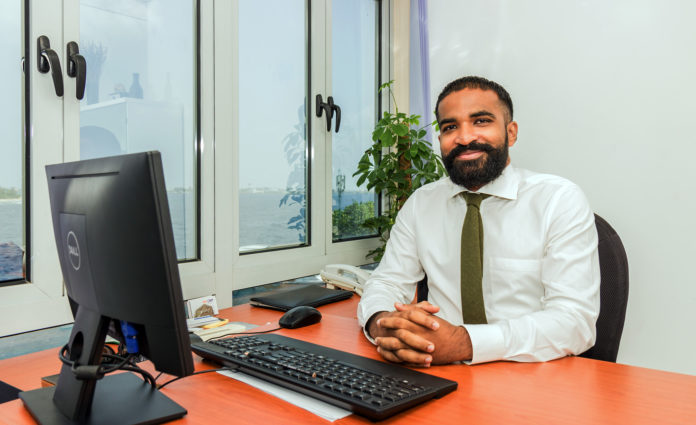 by Ruba Ali
Mr. Hassan Manik is the young and charismatic Managing Director/Chief Executive Officer of Maldives Stock Exchange. The MSE operates as a center for trading, reporting and pricing stocks in the Maldives and a regulated market for investors to trade existing stocks, with the aim of providing a liquid secondary market for securities to raise funds with complete transparency.
Corporate Maldives sat down with the man at the helm of this ambitious and prestigious company to find out how he got started in the capital market, his greatest achievements and what lies in store for the future.
How did you get started with your career?
I have always had a strong interest in finance, starting from my school days. I did my undergraduate and graduate studies in finance and started my career at Bank of Maldives as a graduate trainee. After working at BML for 5 years in various posts, I was eager to do something more challenging and exciting, something that will allow me to utilize my knowledge, experience, and skills to explore a different aspect of the financial sector. It was around this time an opportunity came up to join the Maldives Stock Exchange (MSE).
I know it is a bit cliché' but working at a stock exchange was my ideal career goal when I was in school. A friend recently reminded me that once in high school we were asked what careers we would like to choose in the future and for some reason, I said I wanted to work in a stock exchange. Back then they laughed off the idea and pestered me for a more realistic one because at the time the Maldives did not even have a stock exchange. So, when this offer came up it was a dream come true.
How has your company made a difference in the industry?
MSE is a 9-year-old company that was incorporated to play a pivotal role in the Financial Sector of the Maldives. MSE received the license to operate the Maldives Stock Exchange in 2008, and since then has been operating as a national institution. We have managed to float the idea of raising funds from the public, at least to some extent. I believe that the bigger chunk of our work is yet to realize.
However, we are proud of our existence and we believe that although there is much ground to be covered, we have been able to sustain our operations. We have initiated several national and regional level dialogues to assess ways in which our operations can prosper. MSE is a governing board member of South Asian Federation of Exchanges (SAFE) a forum with 28 member countries from the SAARC region, which aims to provide a platform to share, exchange and promote strategic alliances that will further develop the capital markets of the member countries and work towards regional and global integration.
Our network in the regional and global arena has made it possible for us to easily exchange views, ideas, and expertise in further developing our capacity as a stock exchange. I'm proud to note that MSE has a very capable team of Maldivians developing in-house software solutions customized to our local stock market.
In our efforts to bring more liquidity to our secondary market, we have now embarked on developing IT solutions that will enable investors to interact with the stock market through an online platform. We hope to launch these services during this year. I think one of our strengths is our tech-savvy young population. Our products should reach their gadgets, then they will be more willing to buy/sell shares, bonds and alike.
What are your greatest achievements in this field, both personally and for the company?
Assuming the position of MSE's CEO is my biggest career milestone. Retaining this position is a challenge, unique in its kind. I believe that the best days of my career is yet to come. I want to see more improvement on both demand and supply side of the stock market, which will enable us to create a suitable 'marketplace' for capital market products and services.
As I highlighted earlier, Maldivian companies are skeptic in seeking finance through the capital market, given the uncertainty in obtaining the required capital from our local economy. I initiated discussions with Colombo Stock Exchange hoping to provide a solution to this. They have recently introduced a dollar board where foreign securities can be listed and obtain dollars from the Sri Lankan capital market. This will open additional avenues for our companies to access finance.
We, at the Maldives Stock Exchange recently introduced an additional category of listing under the name 'FANSAAS' for companies proposing to issue securities to the public within a period of three years following an introductory listing.
The objective of such listings is to showcase potential companies and enable them to adhere to regulatory requirements and acquaint them with the rules and responsibilities prior to issuance of securities. I strongly advocated for leeway to be provided to these companies on disclosure requirements, CG code compliance, and other fees to encourage our Maldivian companies to pursue the opportunities available in the capital market.
Most of the listed companies are well performing, profitable companies, yet undervalued due to the illiquidity of the market. With recently signed MOU's with other stock exchanges such as Colombo stock exchange and Stock Exchange of Mauritius, we foresee increased market activities and favorable price discovery for our listed companies. Therefore, I believe MSE has raised the bar for itself, aiming to venture into thriving markets.
What lies ahead for the capital market?
I have been closely working with the regulator and the private sector. Therefore, I find myself to be one individual who is tasked with a very important role in advancing our capital market from where we are today.
Lastly, I would like to offer my sincere appreciation, as a proud Maldivian, to the shareholders of MSE, for the patriotic courage and patient unwavering belief they displayed in supporting something that required risk and time to flourish.
What would be your advice for the younger generation interested in working in the Capital market?
There is a common misconception that the financial sector is only for accountants and number crunchers.
However, with the Fintech and digital revolution, technological solutions and financial services marketing have become the core of the most thriving financial hubs around the world.
I strongly encourage young people to learn and explore the various exciting possibilities in the world of the capital market. There are growing opportunities for newcomers from various backgrounds such as ICT, marketing, and data scientists and analysts to disrupt and innovate with fresh ideas especially in a developing country with limited resources.
Maldives is rapidly progressing towards establishing a fully-fledged capital market. Therefore, these are exciting times to contribute and get involved in this sector.