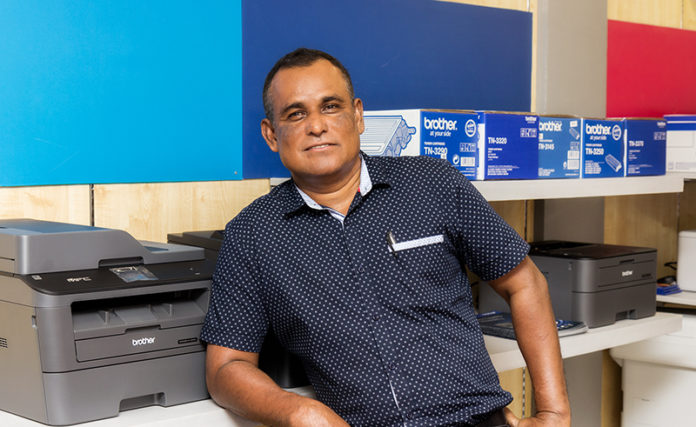 by Mohamed Khoorsheed / Zakwaan Asim
Not many people would know Hassan Muneer as one of the most successful businessmen in the country. Those who do know him regard him as the man who singlehandedly revolutionized office automation in the country by making high quality printers and photocopy machines affordable and easily available to everyone. Muneer is a rather private and reserved man who doesn't like to talk about his accomplishments. Even though he likes to stay out of the limelight and let his Son be the face of the company, Corporate Maldives was able to convince him to give us an exclusive interview.
How did you get started and when did you get your first big break?
Twenty-three years ago I started off as a technician at the then famous Photo Technic, a place where they specialized in the distribution and repair of print machines. While working there I got professional training in Singapore in photography and printing machine maintenance. Three years after I started working there, I had to resign over some differences with the employer but by then I had realized there was no going back. I had to apply what I had learnt, the skills I had acquired, into something productive. I also knew that this was the field I wanted to pursue and build a career in, so about twenty years ago I started a little print shop of my own, repairing printers and selling past papers. With the help of a friend, I started buying second-hand photocopy machines and print machines at auctions, fixed them up and resold it. I used the money I made from that endeavor to travel to Sri Lanka and buy spares from a Toshiba outlet for Toshiba machines. Also, I had some friends working as cabin crew at Air Maldives at the time and I paid them to buy me spares from Singapore and Malaysia.
This was a very small operation to help me get my business up and running and with that money I  acquired the sole dealership for Brother printers, which was a first in the country. I was also offered the dealership of Toshiba because I had become a familiar and trusted face with them during all my visits, and I gladly accepted the deal. This was my big break and I didn't hesitate in seizing the opportunity.
To expand my business from a small local investment, which had a lot of downsides as I couldn't import much, I made a new company called Copier Plus with the sole purpose of importing and distributing photo copy and print machines. As the expense of bringing Brother machines from Sri Lanka was too high, we got official dealership of Brother from Singapore. When we first started bringing in the photo copiers and printers, there really was no market for it here. There was also not much awareness about the need for such machines in an office environment, so we had to create awareness and a demand for it. We did that by launching promotions such as "Buy 4-toners, get a printer free! and "trade old for new" for the first time in country". It turned out to be a huge success and the business really kicked off from there.
Tell us about the biggest challenges you've faced during your career?
The biggest challenge? Parallel imports and fake toners, no doubt. This has been a challenge for me from the start and still is to this very day. The Maldives has an open market economy, meaning that anyone can bring in anything into the country, regardless of the quality. We have no control over this. Competitors and small businesses see our printers doing well in the market and see they have a great opportunity to capitalize on our success by bringing in fake but very cheap toners to sell to our customers. The problem is that even though it's cheap they cause a lot of problems and damage to our machines. Most people would choose price over quality so the cheaper alternative is very attractive. However, what it really does is damage our machines and voiding the warranty in the process. Also, we get blamed for the failure of the machines as our promise of "2000 to 3000 pages of print" is not achieved when a fake toner is used. To counter this, we have had to take a lot of steps and preventative measures. We've started imprinting our own logo and Brother original seal on the toners and started several campaigns to create awareness among customers so that they'll realize the dangers of using fake toners. These campaigns have been very successful, I would say.
What kind of positive changes has Copier Plus brought to the market?
We are constantly trying to bring innovation and provide unbeatable customer service to this sector. If a Brother or Toshiba machine breaks down, we provide a fast service to attend to it and possibly repair any issue within 24-hours. On the rare occasions that our team is unable to repair a machine within 24-hours, we provide a brand new replacement at a very attractive discount. In the case of a total breakdown of one of the larger machines in a corporate or office workplace, we even provide a backup machine while our team works round the clock to fix the issue so that the client will not have to suffer any losses. I think it's these things that makes us so different from our competitors and has brought a revolution in terms of customer service to this industry. None of our competitors can match us in terms of the after sales and maintenance service we provide. We build a really close working relationship with all our customers and I believe that is the reason Copier Plus is so far ahead of the competition.
We have also been trying to create a community of customers who are more aware of the quality of the products they purchase by providing relevant information to any customer who visits our showrooms or distributors. We have also started several CSR projects this year as well. We started off by donating equipment to Orphanages. During Eid, we partnered with a local online newspaper and distributed machines needed for the most important government or private buildings in thirteen islands of Noonu Atoll. More than 150 printers were donated to non profit organisations. We have also donated to private institutions but currently we're limiting that to the education sectors. These include more than 30 printers donated to private pre-schools across the country.
Where do you see yourself and Copier Plus in ten years time?
At the rate technology is progressing, I'm not sure printers would even be used by then! That is a possibility, but as long as there is demand for it my company and I will always strive to make printers and photo-related machines more widely available and accessible to all sectors of the country. To establish this, we already have set a plan in motion. I can't give you all the details but there are some things I am willing to share. We will be branching out and trying to provide our service to the entire country. Instead of establishing our own outlets in the main islands of the atolls we'll try to partner up or get agents in the islands. They would act as redistributors and resellers of our products. That way local business owners would profit and also be able to provide high quality machines at affordable prices to their communities. We also plan to provide training and consultancy. I don't want to say anything about where I will be in ten years or what I will be doing but I am confident the company has a really bright future ahead of it.