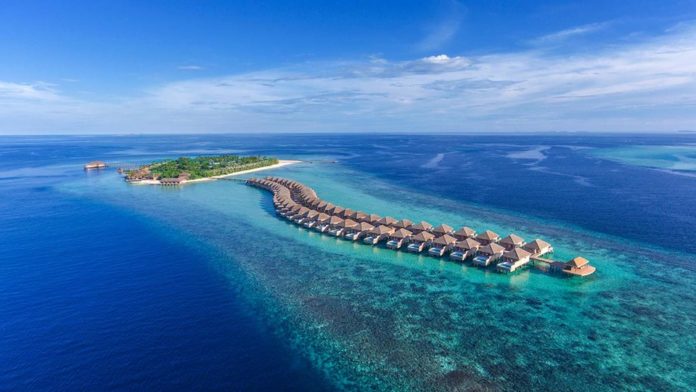 The luxury resort hotel has an undersea restaurant, a champagne pavilion, and 90 upscale villas, including 60 Ocean Villas and 30 Beach Villas. The eco-friendly resort has a series of sustainable features including solar panels, a water bottling plant, hot water recovery and an in-house marine biologist.
Hurawalhi Island Resort is now open to holidaymakers visiting the Maldives & the upscale resort has 90 lavish villas, and it is located 40 minutes by seaplane from the main island of Male.
The island retreat has been built with the environment in mind, and it has a series of sustainable and energy saving features. These include solar panels, its own water bottling plant, hot water recovery system, and an in-house marine biologist who can educate guests on the marine species found in surrounding lagoons and ocean.
It has taken a fair amount of ambition, optimism and dedication to decide to have the world's largest underwater restaurant built, and it has taken our contractor even more ingenuity to build it exactly as imagined.
The restaurant will sit 5.8 meters below the lagoon, with guests entering it via a staircase from a little hut on the jetty. Engineers and divers will help us lower this 18 m x 5 m phenomenon and place it on steel piles that we constructed in 2015.
The onsite Marine Biology Centre allows guests to learn about the surrounding ocean's marine life, coral reefs and conservation projects in special workshops. The facility is led by a resident marine biologist and is run in partnership with Prodivers Maldives. The resort also collaborates with marine conservation and education specialists, WiseOceans, on research projects.
Hurawalhi Island Resort & Spa, Maldives, will be a resort masterpiece in many ways, with the 5.8 undersea restaurant being downright sensational and alone worth the trip.