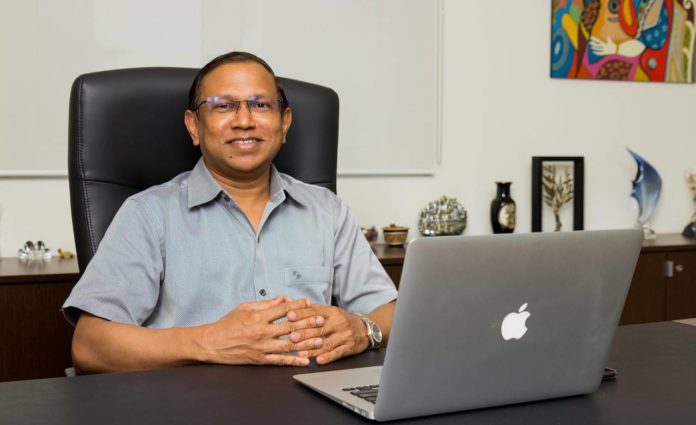 by Zakwaan Asim
Mr. Hilmy is a pioneer, and arguably one of the first, if not the first, Maldivian who developed a luxury brand, Coco Collection, to compete with industry's highest and most luxurious brands. He started out in the 80s with his brother as a tour operator which grew into the company you know today as Sunland Hotels. With his goal to take this home-grown brand out into the region beyond the country's borders, he along with his brand have done things differently, and at times, things considered to be insane by the hospitality industry at large back then and even now. Corporate Maldives sat down with this daring man to talk about his journey through his career as an entrepreneur and leader in the ever-changing hospitality industry of the Maldives.
Tell us about how you started off in your business career.
We entered the tourism industry as a travel operator in the year 1985. It was my brother who initially started the company as a meet-and-greet service for Japanese tourists who had started to arrive into the country at the time. With hard work and perseverance, we slowly grew into an inbound tour operator which provided beds for small and medium tour operators in the country. But once we gained a foothold, we quickly grew into one of the largest inbound tour operators in the country over a short period.
Subsequently, our biggest break came through when we won the bid for Makunudhu. At the time the island had been developed into a resort and was run by a Swiss gentleman named Philippe Coigny. His lease for the island was about to expire and the Government put the island up for sale as an open bid. I led the effort to win the bid. My vision was in the future to move away from casual backpackers who travel via chartered flights to a more a direct, upmarket customer market. We kept this in mind when we drew up the initial plans for Makunudu.
During a time when high-end resorts were not as common, we applied for the bid at a much higher rate than any other party. Back in those days, this was unheard of. A new young company bidding on an island, and that too at an unbelievably high rate, was mocked by the hospitality industry professionals at the time. We were told that we would fail and that our vision was near impossible to do in the Maldives.
However, we marched on. Instead of redeveloping the whole island, we decided to renovate and keep the existing Maldivian flair. The concept was a "no news no shoes", laid back island lifestyle combined with the friendliness of the Maldivian hospitality. While the rest of the market played it safe, selling for no more than USD 150, we scaled it up to USD 400 and above. Along with this rate, we ensured that the quality of our service and what we offered were impeccable. We were at the forefront of the market.
One thing led to the other and we bid for more islands. Once again we were very innovative with how we proceeded. We won three islands, however, we sold two of the islands and focused our efforts on just one.
The island we concentrated on was Coco Palm Dhuni Kolhu, with the first luxury spa, and plunge pools featured in beach and water villas. Believe it or not, plunge pools were very innovative back then. This became a huge success, and we were recognised by several awarding bodies for our style and the quality of service. Our influx of customers increased and we proved to the community at large that we should cater to a more upmarket segment and try to focus on guests who can and will spend money for luxury.
This was right around the time when Sonu started with Sonvea Fushi. Along with them, we were the the only high-end resorts in the market. They went very far and expanded but they probably had more resources and capital. Our expansion plan didn't involve us accumulating a lot of land, and we wanted to focus on making a brand product. Expansion and growth to us was the quality and standard of service which we provided to our customers. True, we were going about this the unconventional way but our vision to make the Maldives a key destination for a high-end market, and this is what drove us to the success you see today.
We grew at a steady pace and we are still continuing to grow today. A few years later we took over Bodu Hithi and Kuda Hithi on a sublease and redeveloped into the luxury islands you see today. Coco Bodu Hithi with a 100 villas and plunge pools and Coco Privé Private Island into a private island. With Kuda Hithi we sell it at a rate of USD 40,000 to USD 50,000 per night. People were baffled and thought I was insane at first but the private island has huge demand within the ultra high net worth segment. We have hosted billionaires, celebrities, royalty and presidents. With this we also started our luxury division; the Coco Collection.
What are the challenges you face?
When we initially started off as an inbound tour operator we were very much side-lined by other resorts and hotel chains. It was hard to get recognition by the hospitality industry as a serious player. However, we managed to strengthen our relationships with a few resorts and gave them good business, enabling us to grow as an operator with which our market share grew along as well.
Post tsunami of 2004, number of beds increased drastically as the legal requirements for resorts were very much lowered. This created a huge supply, more than the demand for the Maldives. This made the market into a more saturated environment, especially at the top, 5-star segment.
The next challenge was maintaining quality human resources. Owners will always have a certain vision but without frontline well-trained staff who are aware of these visions our ethos, we cannot deliver our vision.
Because of society's outlook on women in hospitality we are forced to tap into only half of the market available for the service industry. There are so many incredibly capable women who would be able to take on roles in all areas of the service industry. We are doing our best to change this, not only by hiring experienced and capable women but by also providing young women with the opportunity to learn, grow and flourish in the same way a male associate would.
How are you doing things differently?
We are planning to tap into the 4-star market where the demand is at its highest at the moment. But this won't be the budget segment. Rather we are trying to develop the brand we have regardless of the impression that the current socio-political status of our country is portrayed to the world. We need to keep our names out of certain agendas and show the world we are Muslims that love peace. Right now it's a whole different story with us being portrayed as a politically unstable country but in reality that is not the case. So we would like to continue to develop, bring in new ideas and try out new and innovative techniques when dealing in the hospitality industry like how we have been doing for the past 30 years or so.
What are your plans for the future?
Well that's an interesting question. We are now focused on Coco Privé Private Island. We will continue to customise and create specialised arrangement for guests who come here. This will enable us to tap into the various market and build our name as a 100% Maldivian brand in the region. It's our passion and not money that drives us to do great things.
For any CEO or anyone who wants to get into business I would say that you shouldn't give up. Dream big even if you face losses. Be consistent in what you do and once you believe in something you have to work for it. Nothing comes easy it's all hard work that gets you success.