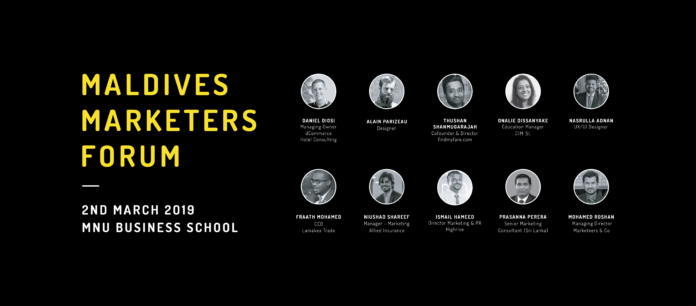 An impressive lineup of speakers have been announced for the Second Edition of Maldives Marketer's Forum to be held on Saturday, 2nd March 2019. The event is organized jointly by Corporate Maldives Academy and MNU Business School. It will be held in MNU Business School's Auditorium from 09:00 AM to 17:00 PM.
The theme for this year's Marketer's Forum is Digital Marketing. The following is the list of speakers who will be sharing their expertise in the forum this year.
Mr. Daniel Diosi, Managing Owner of dCommerce Hotel Consulting.
Mr. Alain Parizeau, Designer.
Mr. Thushan Shanmugarajah, Co-founder & Director of findmyfare.com.
Ms. Onalie Dissanayake, Education Manager of CIM, Sri Lanka.
Mr. Nasrulla Adnan, UX/UI Designer.
Mr. Fraath Mohamed, CEO of Laniakea Trade.
Mr. Niushad Shareef, Marketing Manager of Allied Insurance.
Mr. Ismail Hameed, Director of Marketing & PR at Highrise.
Mr. Mohamed Roshan, Managing Director of Marketeers & Co.
Out of the registered participants, 10% comprise of individuals while 90% are corporate participants. Almost all the registered participants are directly or indirectly working in the industry of marketing, PR, or sales. Approximately 20% of the participants are from Executive category whereas 70% is either senior or middle management while only 10% of the participants are undergraduate students or interns.
The Marketing Forum is a business-networking event catered to senior-level professionals (Directors, Vice Presidents, and CMO's), which will help you make marketing choices to drive your business forward.