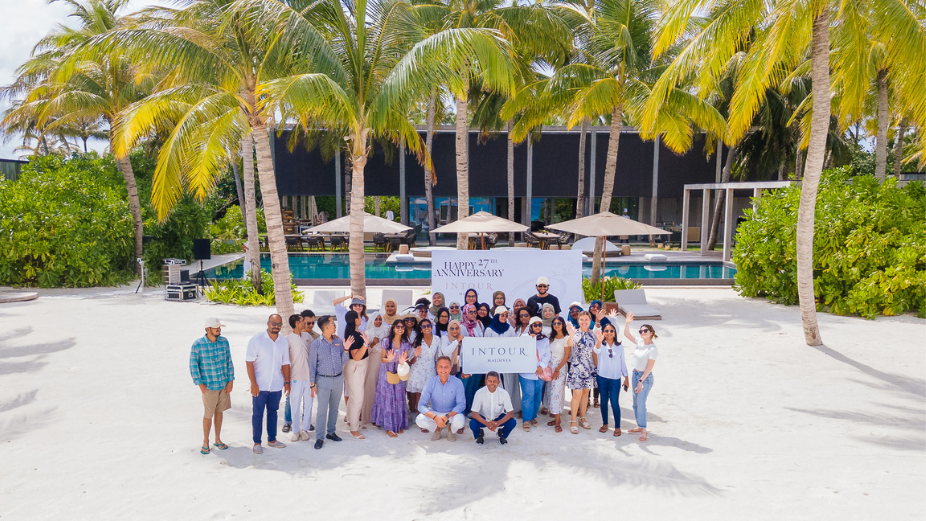 Intour Maldives, a leading luxury travel agency and the only Serandipian DMC partner based in the Maldives, has celebrated its 27th anniversary.
Since its establishment in 1996, Intour Maldives provides exceptional travel arrangements to visitors from around the world and prides itself on curating unforgettable experiences. To mark this momentous occasion, Intour Maldives hosted celebratory events at the prestigious Fari Islands, Ritz-Carlton Maldives and Patina Maldives resorts on June 10th, bringing together its remarkable staff whose hard work and dedication have propelled the company to its current success.
We extend our heartfelt gratitude to Intour Maldives as our valuable partner for their unwavering support and continued business" said Renato De Oliveira, General Manager of The Ritz-Carlton Maldives, Fari Islands. "Together, we have created memorable moments for both our guests, and we continue to look forward to building on this successful partnership in the years to come."
As a forward-thinking luxury travel agency, Intour Maldives understands the importance of sustainable tourism. Therefore, in conjunction with its 27th anniversary, the company is proud to unveil its comprehensive company-wide sustainability program plan, known as the ECO (Earth-Conscious Offering) plan at Patina Maldives. The ECO plan is specifically designed to reduce the company's carbon footprint, promote environmental awareness, and empower both its staff and the travel community to embrace sustainable tourism practices amid the ongoing climate crisis. "We sincerely appreciate the unwavering support of Intour Maldives. Together, we are forging a path towards a greener future, preserving the natural beauty of the Maldives for generations to come" mentioned Antonio Saponara, General Manager of Patina Maldives, Fari Islands.
The company firmly believes that responsible tourism can contribute to the preservation of the Maldives' natural beauty and cultural heritage for future generations to enjoy. Through the ECO plan, Intour Maldives seeks to inspire both its staff and clients to make conscious choices that minimize their impact on the environment while maximizing the positive social and economic contributions of travel.
"Our heartfelt gratitude goes out to all our valuable business partners around the world, as well as the resort in partnership with us and our dedicated team members," remarked Ali Firaq, Managing Director, Intour Maldives. "We are thrilled to take the next steps as a company to do our part".
Intour Maldives is not only renowned for its exceptional service in the development of tourism over the years but has also been recognized with numerous prestigious awards. In 2022, Intour Maldives was named the National Best Travel Agent at the esteemed Maldives Tourism Award Ceremony to celebrate 50 years of tourism, further exemplifying its commitment to delivering top-notch travel experiences and customer satisfaction. Additionally, the company also received the MATI 50 Years of Tourism award in recognition of its exceptional contribution to the growth and development of the Maldives' tourism sector. The company has won the Gold 100 award by Corporate Maldives for five consecutive years, showcasing its consistent excellence in the industry.