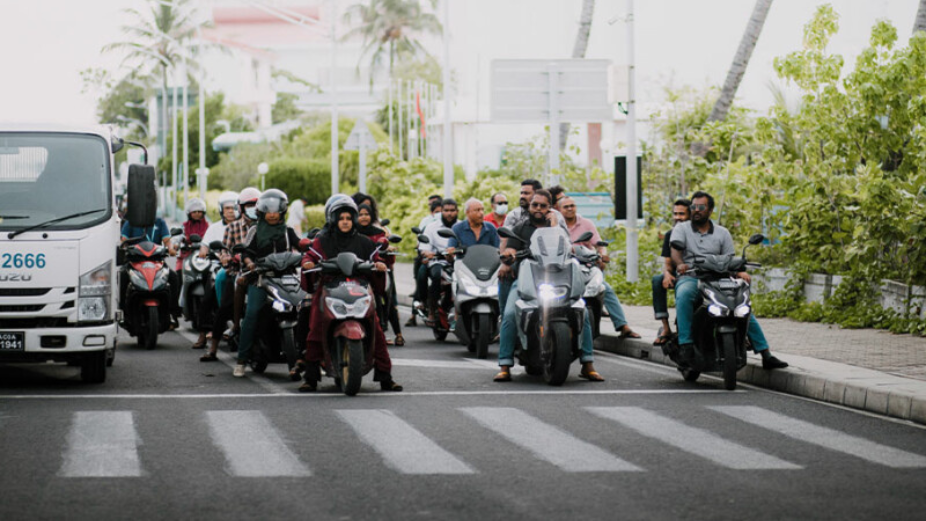 Finding free parking spaces has always been a problem in Male' city. The problem has been exacerbated by the commencement of the minibus service, which began earlier this month. However, even before the minibus service began in the city, rows and rows of motorcycles could be seen illegally parked on either sides of many roads.
Why has this issue of parking spaces become such a huge problem? According to some, parking spaces which were previously occupied for motorbike users were given to taxis and private car drivers, as it is near impossible to park cars in the narrow roads of Malé City due to the numerous other vehicles parked.
Malé City Council also sold parking spaces; there are specific prices set for different types of vehicles. As of now, at least 1700 cars have been given parking spaces. There is also a monthly fee for taxis and private cars — MVR 750 and MVR 1500 respectively. At last week's session at the Parliament, members had addressed this issue as well. They claim that some council members have to pay around MVR 25000 simply on the monthly parking fees.
All of this has resulted in the illegal parking of an increasing number of vehicles. Furthermore, since minibus services commenced in the city, Majeedhee Magu is already congested with vehicles. Malé City Council is planning to build a space for motorbike drivers to park their vehicles near Majeedhee Magu. Even then, there are still a lot of issues because these spaces have already been sold for other drivers.
The reason why the entire Malé City is being transformed into a parking zone is due to the redevelopment of Ameenee Magu, causing many roadblocks. The project, helmed by Road Development Corporation and Planning Ministry, has plans to develop an asphalt road, install a small drain system, and install traffic lights. The scope of the project is much bigger, as it involves installation of braille blocks for visually impaired pedestrians, making the road accessible for wheelchair users, construction of bumpers, replacing the trees already taken down on that road with tree pots, and laying down cables.
The truth is that there aren't enough parking spaces in Malé City. Due to the redevelopment of Ameenee Magu, this problem has worsened significantly. While Malé City Council has already sold parking spaces in Ameenee Magu and other roads nearby, those who park their vehicles there have expressed great concern and stress due to these changes made to the roads.
The solution to this problem will only get better if there is a concrete plan. This would mean to build spaces or buildings that will be able to accommodate vehicles. Another solution to the problem would be to increase public transport within the city, including introducing a school bus. This would mean that drivers ditch their vehicles and use the bus, paving the way for an eco-friendlier solution to this problem.