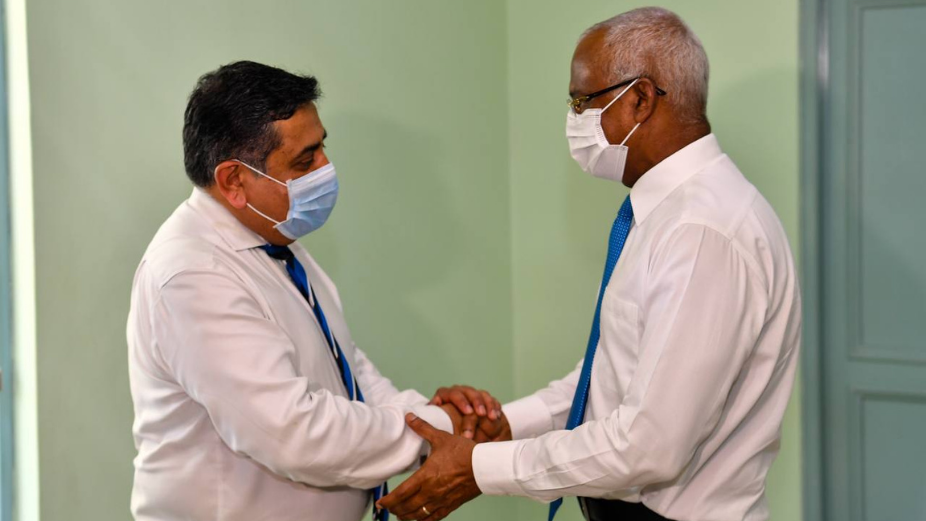 Lord (Tariq) Ahmad of Wimbledon, the Minister of State for South and Central Asia, the United Nations (UN), the Commonwealth and the Prime Minister's Special Representative on Preventing Sexual Violence in Conflict of the United Kingdom (UK), on Saturday afternoon paid a courtesy call on President Ibrahim Mohamed Solih. The call was held on Felivaru Island in the Lhaviyani Atoll.
Speaking at the meeting, President Solih highlighted the services provided over the past few years by the resident mission of the UK in the Maldives. Shedding light on women's and children's rights issues in the Maldives and highlighting various achievements in this area, he assured the administration's commitment to continue to empower women and children in the future.
President Solih also touched on other rising concerns in the country, such as religious extremism. He recalled the May 6, 2021, assassination attempt on the Speaker of Parliament and described it as a "wake up call" for the Maldives to the growing threats of terrorism and extremism. He also expressed the administration's keenness on expanding economic horizons and spoke about easing tariffs on Maldives' fish exports.
The President and Lord Ahmad also touched on various other topics, including challenges caused by climate change facing small island developing states such as the Maldives. The President went on to extend his support towards the UK's commitment to reforming the Commonwealth and making the organisation work for everyone. They concluded the meeting by reaffirming their shared commitment to continue working together for the common welfare of the citizens of both countries.
Prior to the call, President Solih inspected the progress of the land reclamation project carried out by Maldives Transport and Contracting Company (MTCC) in Felivaru Island, as part of the administration's project to expand cold storage facilities. The project would see the development of a 4,000 tonne cold storage, a 100-tonne fish processing plant, dedicated quays for loading and unloading, and a powerhouse.