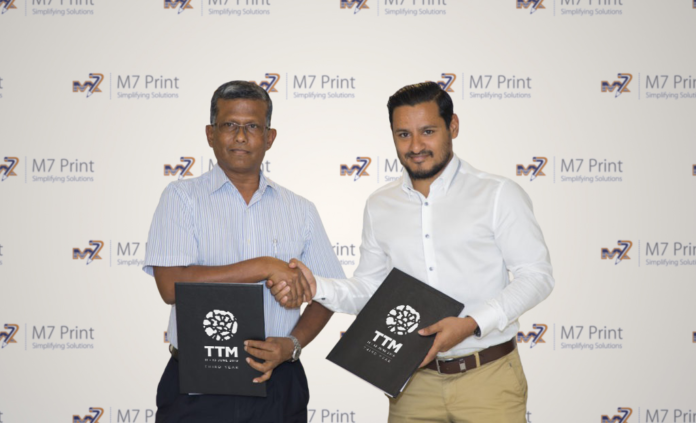 M7 Print has signed as a Gold Partner for TTM 2019. This is the third consecutive year that M7 Print became a partner of "TTM".
M7 Print became active from December 2007 with offset printing and production of eco-friendly paper shopping bags and are committed to providing reliable products and service at high quality and affordable prices. M7 has already gained wide recognition in the market as a reliable brand name in Male'. On behalf of M7 Print, Mr. Mohamed Abdul Sattar, Managing Director signed the agreement, while Dr. Hussain Sunny Umar, Chief Executive Officer of Maldives Getaways, signed the agreement on behalf of the company.
TTM is the largest platform connecting the travel trade community of the Maldives to the global network of travel professionals. For the past two years, TTM has invited over 500 travel agents, PR firms, media groups and related travel trade professionals to the Maldives. TTM aims to facilitate the tourism industry of Maldives to reach the ultimate target of 2 million tourists with over USD 3.5 billion in receipts by the end of 2020.
TTM consists of four components which are; 
TTM Travel Summit
Pre-scheduled Meetings
Maldives Supplier Expo
TTM Awards & Gala Night
More than 300 hoteliers, suppliers, related industries and travel industry professionals from the Maldives and abroad are expected to visit TTM to be held from 11th-13th June to network, negotiate and discover the latest industry opinion and trends in the Maldives.