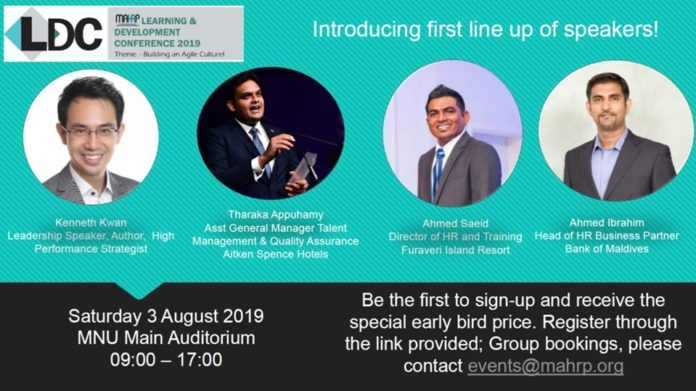 Maldives Association of HR Professionals (MAHRP) will present the first ever Maldives – Learning and Development Conference 2019, which is scheduled for Saturday 3 August 2019 at Maldives National University Main Auditorium.
The first line up of speakers for the Learning and Development Conference 2019 include experts such as Mr Kenneth Kwan, Mr Tharaka Appuhamy, Mr Ahmed Saeid and Mr Ahmed Ibrahim.
The Learning and Development Conference is a one-day event focused on finding smart, creative strategies and techniques to meet the current demand and needs of L&D, challenges of today and ways to handle the future workforce.
Topics to cover includes; Global Best Practices in Training, Supporting a Culture of Learning, Redefining Learning ROI, Building Effective L&D programmes, Learning for Millennials, Strategies to attract Gen Z Workers, Retaining Top Talents and Successful Onboarding Programs.
Should you be interested in speaking or participating in this event, please email to: president@mahrp.org or events@mahrp.org
You can also contact MAHRP through the event hotline 7778035 or text 7303617.