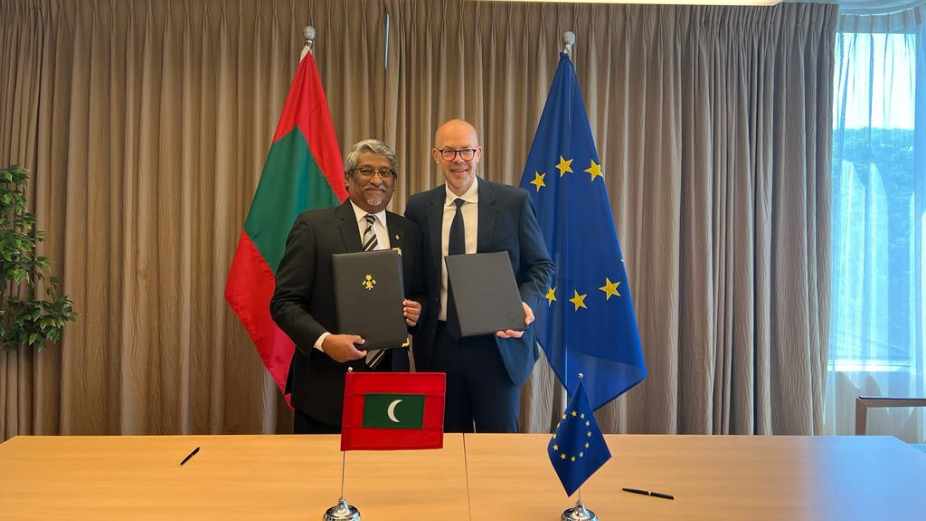 The Maldives and European Union officially launched a new flagship initiative to strengthen the rule of law and anti-corruption in the Maldives, at the sidelines of the 4th Maldives EU Senior Officials Meeting in Brussels. This five-year programme, funded by the European Union for a total of EUR 5 million (MVR 83 million), is based on the Maldives' priority needs and reforms and will be implemented in close partnership with all relevant actors from the justice and anti-corruption sectors.
The Agreement was signed by Minister of State for Foreign Affairs, Ahmed Khaleel for the Government of Maldives, Director for Asia, Middle East and the Pacific, Directorate General for International Partnerships Mr Peteris Ustubs for the European Union.
The 'Strengthening the Rule of Law and Anti-Corruption' programme will build upon and complement the achievements and lessons learnt from past EU initiatives in the sector. Its main objective is to strengthen the rule of law and reduce corruption in the Maldives, through: (1) supporting the country in developing an effective, accountable and inclusive justice system, and; (2) strengthening anti-corruption efforts through better legal frameworks, institutional capacity building and improving public perception.