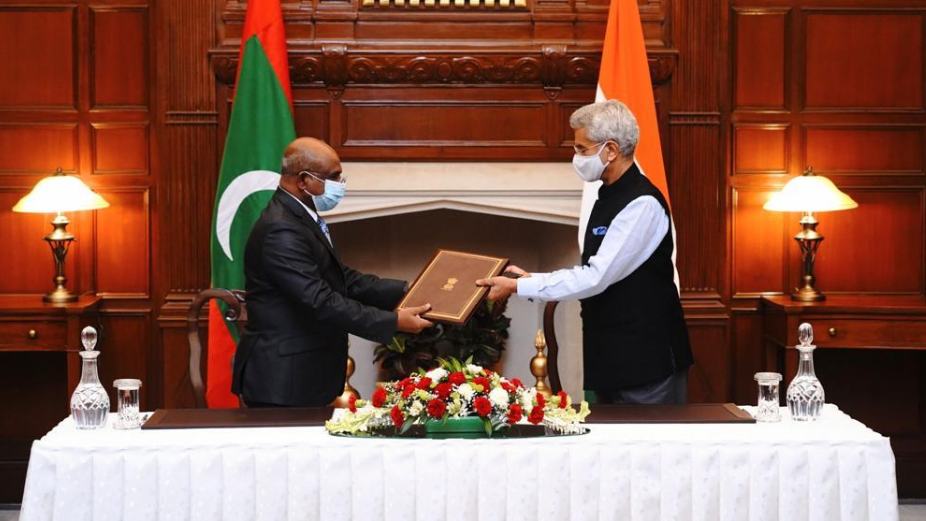 The Governments of Maldives and India have yesterday, signed a renewed Memorandum of Understanding on Indian Grant Assistance for Implementation of High Impact Community Development Projects through local bodies. The Minister of Foreign Affairs of the Maldives Abdulla Shahid, and the Minister of External Affairs of India Dr S Jaishankar signed the MoU on behalf of their respective Governments.
The renewed MoU increases the size of the Indian grant assistance to High Impact Community Development Projects in the Maldives, to 155 million Rufiya (equivalent to approximately US$10 million). Previously, the grant assistance was up to MVR 85 million.
The MoU was first signed on 17 March 2019, during the official visit of then Minister of External Affairs of India late Sushma Swaraj to the Maldives. The aim of this MoU is to set up the framework to support small and effective developmental initiatives which will be implemented through local bodies, government-to-government institutions; and jointly work towards successful implementation of small projects which contribute to economic and social development and improvement of public welfare.
The primary themes of projects covered under the MoU are socio-economic development, livelihood activity, conservation of environmental and cultural heritage, empowerment of women and child welfare and skills development.
Twelve projects are currently underway, under the High Impact Community Development Project grant scheme. They include the establishment of Geydhoshu Mas Plant (Neighbourhood Fish Processing Plants) in Hithadhoo, Maradhoo and Hulhudhoo of Addu City, and Noonu Kendhikulhudhoo; Development of tourism zones in Hithadhoo, Feydhoo, Maradhoo, Meedhoo and Hulhudhoo of Addu City; Agricultural Linkages Project in Hanimaadhoo by the Ministry of Fisheries, Agriculture and Marine Resources; Establishing a drug detox centre in Addu City Hulhudhoo; Establishing a Water Bottling Factory in Haa Alif Hoarafushi.