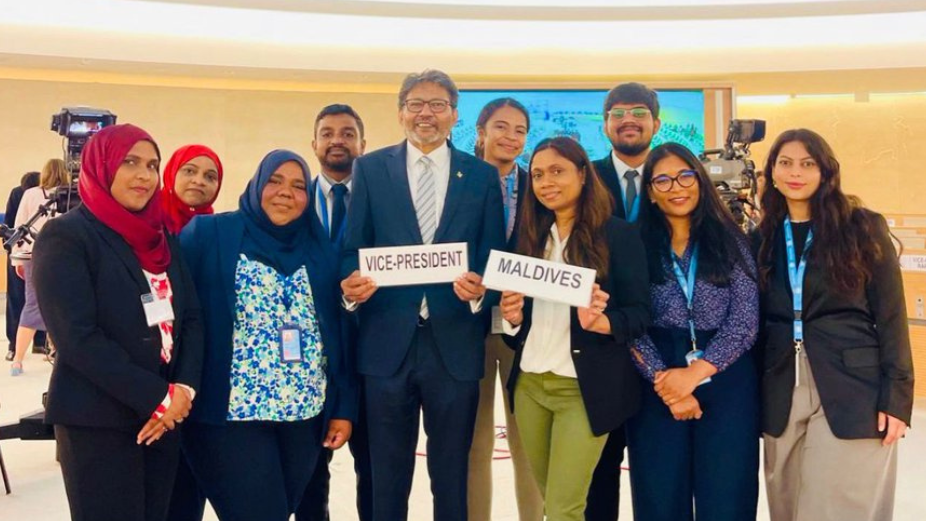 The 53rd session of the United Nations Human Rights Council concluded in Geneva on Friday with the Maldives co-sponsoring 14 resolutions.
The Human Rights Council adopted 31 resolutions and the Delegation of Maldives delivered 32 national statements on an array of thematic areas.
Among the Maldives co-sponsored resolutions, included the Enhancement of international cooperation in the field of human rights, the Contribution of development to the enjoyment of all human rights, the Negative impact of corruption on the enjoyment of human rights and the mandate renewal of the Special Rapporteur on the Rights of Persons with Disabilities among others.
The Maldives was part of the cross-regional core group that drafted the resolution on the Mandate of the Special Rapporteur on the independence of judges and lawyers. The main objective of this resolution is to renew the mandate of the Special Rapporteur on the independence of judges and lawyers for a further period of three years. This resolution was adopted by consensus and had more than 71 co-sponsors supporting the resolution at the time of adoption.
Further, in response to a request by the Organization for Islamic Cooperation (OIC), an urgent debate was held on 11th July with the purpose of bringing attention to the recent attacks on the sanctity of the Holy Quran. The Maldives was a proud co-sponsor of the resolution titled "Countering religious hatred constituting incitement to discrimination, hostility or violence." This resolution, adopted after the urgent debate at the 53rd Session, vehemently condemns the desecration of the Holy Quran.
The Maldives also co-sponsored 34 joint statements delivered at the Council. This included statements by the Organization for Islamic Cooperation among others. The Maldives on behalf of the group of Small Island Developing States (SIDS) delivered a statement at the Annual Panel Discussion on the theme of Adverse Impacts of Climate Change on the full realization of the right to food and reiterated SIDS commitment to work collectively to build resilient food systems that safeguard the right to food to ensure a sustainable future for all.
The Maldives Delegation at the 53rd Session of the UN Human Rights Council was led by H.E. Dr Asim Ahmed, Ambassador Extraordinary and Plenipotentiary and Permanent Representative of the Maldives to the United Nations Office in Geneva. As the Vice President of the Council, representing the Asia Pacific Group, Dr Asim Ahmed chaired several meetings of the Council.