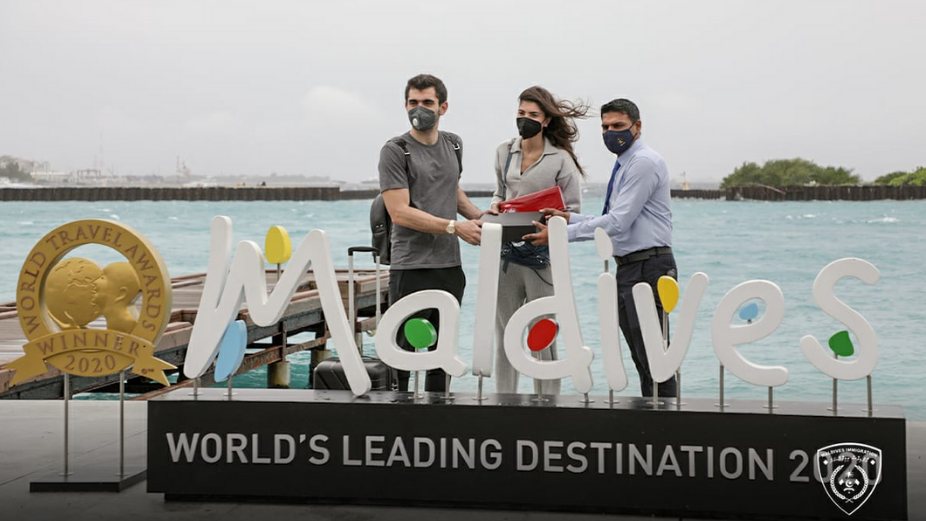 Maldives marks another milestone today by welcoming the 100,000th tourist arrival in a month since border reopening on 15th July 2020.
Hana Mohamed, a tourist from Egypt arrived in Maldives today with her husband Ahmed Kamal Mostafa for their honeymoon. The couple arrived at the Velana International Airport on an Emirates flight today morning, making Hana the 100,000th tourist to visit Maldives this March. The couple who is visiting Maldives for the first time will be spending their honeymoon at InterContinental Maldives Maamunagau Resort located in Raa Atoll.
Despite the temporary halt in the industry due to the unprecedented pandemic in 2020, Maldives successfully wrapped up the year with 555, 213 tourist arrivals in the year.
Ministry of Tourism revealed that Maldives celebrated a new record of daily tourist arrivals for 2021, with over 5,275 visitors arriving on 26th March. The destination has recorded 283,383 tourist arrivals so far this year, as of 27th March 2021. This includes 96,882 arrivals in February, and 92,103 arrivals in January.
The largest source market for tourist arrivals since border reopening is India, followed closely by Russia.
As of 27th March 2021, Maldives has 1,017 tourist facilities operational with 52, 852 beds. This is with 159 resorts/marinas accumulating to 37,140 beds followed by 687 guesthouses with 11,059 beds, 158 safari vessels with 2,955 beds and 13 hotels with 1,698 beds.
Maldives reopened borders to all nationalities from 15th July 2020. All visitors are granted a 30-day free on-arrival visa with a confirmed booking for a stay at any registered tourist facility in the country.