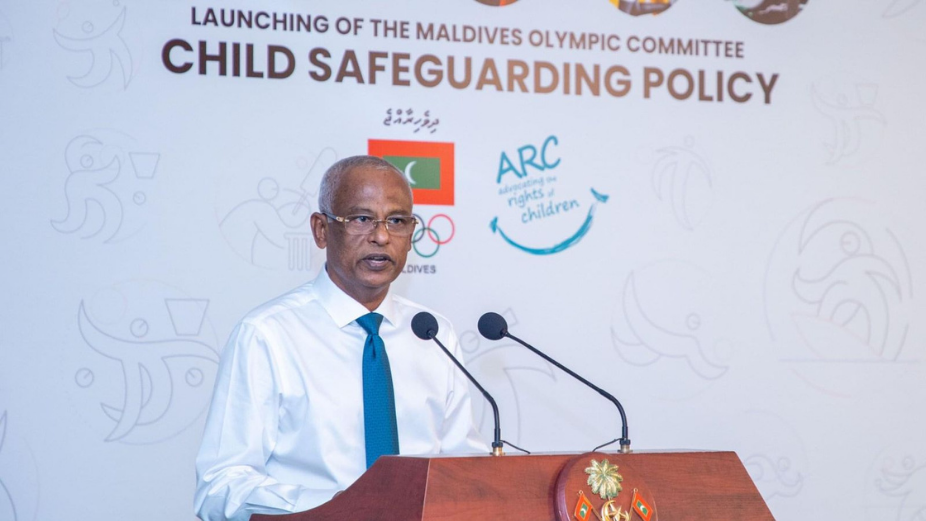 President of the Maldives H.E. Ibrahim Mohamed Solih has launched the "Maldives Olympic Committee (MOC) Child Safeguarding Policy" developed by the Maldives Olympic Committee in partnership with Advocating the Rights of Children (ARC). The policy was launched at a special ceremony held at the President's Office yesterday morning. The policy aims to create a safe sporting environment for all children, regardless of their involvement in sports, whether as athletes or in other capacities.
The MOC Child Safeguarding Policy is one of the most important initiatives to protect and promote rights of children in Maldivian sports. It provides guidance for coaches, trainers, parents and other technical staff on how to report and respond to child safeguarding concerns. The five principles of the Child Safeguarding Policy include ensuring there is no discrimination amongst children; prioritizing the best interest of the child; providing support and special protection for child victims; promoting child participation by considering the views and opinions of children on matters that affect them and working towards equal opportunities for vulnerable and marginalized groups in sports.
With the launch of the policy, MOC has appointed a male and female Child Safeguarding Officer. It also obligates each National Sports Association to develop their own Child Safeguarding Policy and appoint a Child Safeguarding Officer in addition to the fulfillment of various requirements to further protect the rights of children in sports.
Speaking at the event, H.E. President Ibrahim Mohamed Solih expressed gratitude to MOC & ARC for this important initiative towards the protection of children across the Maldives. President Solih emphasised that the policy would be implemented on a national scale, assuring the cooperation of all government offices and institutions. The President urged families and civil society to support the policy's implementation, emphasising how far it has come in terms of child protection and safety.
President of MOC, Mohamed Abdul Sattar noted the importance of empowering staff and volunteers through institutionalizing procedures and guidelines for reporting and responding to child safeguarding concerns. He also expressed hope that the Child Safeguarding Policy will make children's sporting experience better and help create better athletes in the long run.
ARC's Executive Committee Member Mr. Muruthala Moosa highlighted the importance of children's participation sports in an environment that is not only free from abuse, but also one that nurtures them and turn them into productive adults positively contributing to our community.
MOC and ARC looks forward to continue working closely to roll-out the policy, including formulating an Action Plan for its implementation as well as designing safeguarding tools to train and educate relevant personnel at MOC, affiliated NSA's and Academies on child safeguarding. Through this policy, the Maldives Olympic Committee and ARC hopes to cultivate a culture of safeguarding children by practicing zero tolerance towards all forms of violence, abuse, exploitation, neglect, bullying or harassment for all children involved in sports.