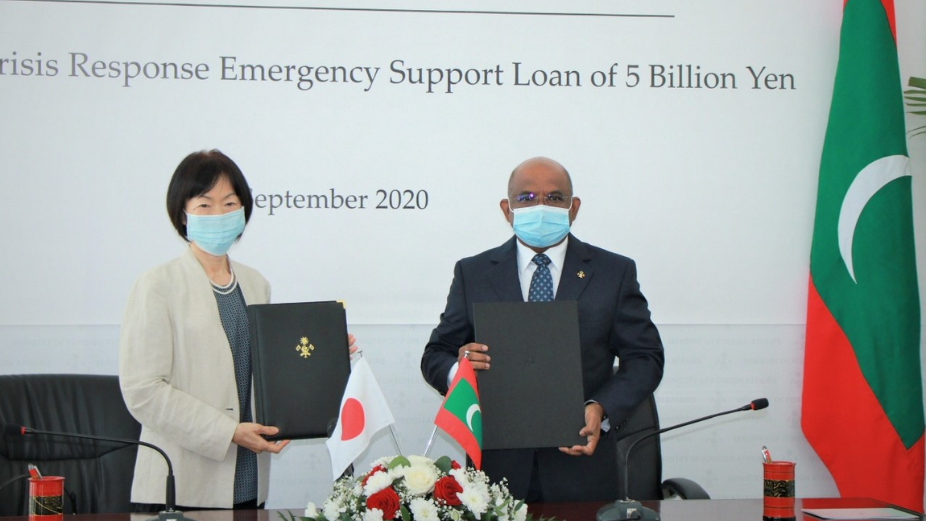 The Government of the Republic of Maldives and the Government of Japan today signed the Exchange of Notes at a ceremony held at the Ministry of Foreign Affairs, for the facilitation of a COVID-19 Crisis Response Emergency Loan of 5 billion Japanese Yen (USD 47.5 million). The Exchange of Notes were signed on behalf of the Maldives by His Excellency Abdulla Shahid, Minister of Foreign Affairs of the Republic of Maldives, and on behalf of Japan by Her Excellency Keiko Yanai, Ambassador of Japan to the Republic of Maldives.
Under the Exchange of Notes, which is a precursor to the signing of a formal Loan Agreement, a concessional loan of 5 Billion Yen (USD 47.5 million) will be extended to the Government of Maldives. This would be the largest amount of concessional borrowing that Japan has extended to the Maldives in its long history of cooperation and partnership, and reflects the close bilateral relations both countries presently enjoy. The COVID-19 Crisis Response Emergency Support Loan will be utilized by the Government in supporting ongoing efforts to combat the pandemic in the country.
Speaking at the ceremony today, Foreign Minister Shahid expressed the Government's sincere appreciation to the Government and people of Japan and thanked the Government of Japan for the continued generosity shown towards the Maldives in its efforts towards economic recovery and stabilisation. He mentioned that Japan has remained a very special friend and steadfast ally, and share a long-standing and time-tested relationship that has spanned for decades.
The Government of Japan has previously committed a grant of USD 5.6 million to the Government of Maldives to equip and improve the health services at atolls and regional hospitals across the country. It has also committed USD 1.4 million to the UNDP Maldives in support of small and medium enterprises in agri-businesses affected by COVID-19, USD 356,400 for UNICEF Maldives and USD 185,000 for Maldives Red Crescent to assist the Government in its efforts to respond to COVID-19.
The signing of the Exchange of Notes paves the way for both governments to formally sign the Loan Agreement, which is due to take place on 30 September 2020.