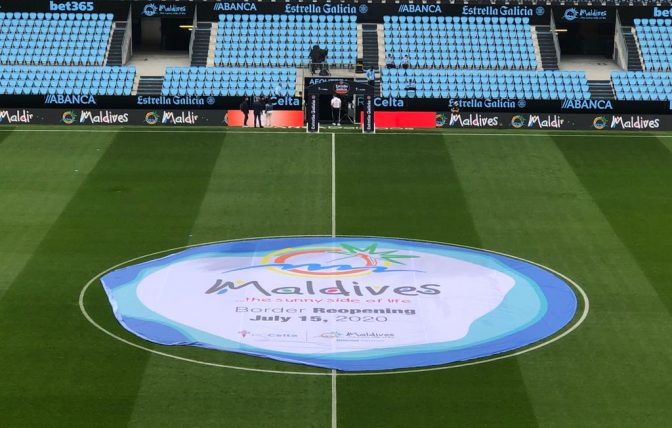 Maldives has taken center stage at La Liga's Celta Vigo vs. Barcelona match at ABANCA Balaidos Stadium, Vigo.
#VisitMaldives banner and Maldives tourism reopening date (15th July) was showcased throughout the match which took place on 27th June 2020. The match was said to have over 50 million views worldwide.
RC Celta and the government of the Maldives signed a sponsorship and collaboration agreement on 4th November that will foster a fruitful relationship between the two institutions for the next three years.
The agreement includes the promotion of the country on the first team's home and training jersey sleeves with the slogan 'Maldives… the sunny side of life' as well as on the official bus and various areas in the Abanca Balaídos stadium and training camps.
In addition, RC Celta, as an international benchmark for youth work, will collaborate with the Maldives in the promotion and improvement of youth football and the future national team of this country. The sky blue club will host a number of young Maldivian players to improve their training and club coaches will travel to the Maldives to share their knowledge and experience.