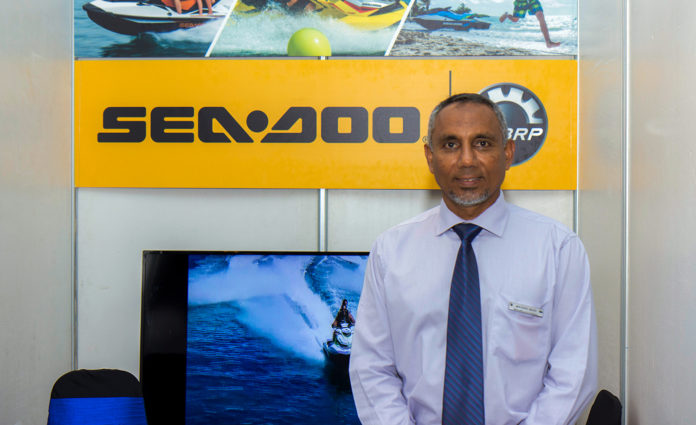 by Mohamed Khoorsheed & Zakwaan Asim
Maseeh Imad is the Managing Director of dTECh Company Pvt Ltd, the sole distributor for Seadoo and Evinrude brand of Personal Watercrafts and Outboard engines in the Maldives. Although a successful businessman now, just a few years back he was a well-known figure in the education sector, having trained several generations of Maldivian youth in the field of engineering and marine engineering. In recent years he has dedicated his time to modernizing watersports in Maldives by making the latest technology and vehicles widely available in the country. Corporate Maldives met up with Maseeh to discuss his change in careers.
You were a well-known and popular trainer and teacher at one time. How did you end up leading the watersports business in the country?
I wasn't always interested in the business side of things at the beginning. Right after finishing I enrolled at the Vocational Training Center to study engineering. I wanted to be an engine repair and maintenance technician. However, soon after finishing studies, I became an Assistant Instructor Trainee at the VTC and started teaching classes there for some time. Later on I got the opportunity to go study abroad and after finishing my studies there I came back and studied marine engineering. I was still teaching there at the time and I really enjoyed the work I was doing as an instructor so it wasn't long before I reached administration level. Not long after that the VTC was converted to Maldives Institute for Technological Education (MITE), which in turn was later turned into Faculty of Education Technology (FET). Later, to bring it under the umbrella of the Education Ministry, it was renamed to Maldives National University (MNU). New infrastructural and managerial changes occurred and by the time the dust settled I was appointed as the Director General of Human Resources.
By the early 2000s I had been teaching for over 25 years. However, by then I had started my own company in 1998 and called it dTECh Marine. At the time we brought in electrical generators and electrified over 75% of the islands in the country. As I was still working in the Government during the first years of my company's inception, I only managed to work at my company during my free time. However, after seeing the fast growth of my company, I decided to resign from the Government and dedicate my entire focus on my business.
Even though the business was a success, I thought it was best to diversify our products range since we didn't want to saturate the market with power generators. That was when I decided to go with power watersports vehicles. At the time it was becoming trendy and was very popular among tourists so the resort market was there. We felt that this market will not get oversaturated too quickly and we went with our gut feelings on this. Turned out we were right. We imported recreational products such as the Bombardier Recreational Products (BRP). At first we brought their outboard engines and because our sales were so good BRP approached us and offered us a partnership to sell their jetskis, aka the Seadoo. This was around 3 to 4 years ago. Initially there were some issues with the Seadoos, not because the product was defective or anything but due to how they were mishandled by customers and clients. This in turn led to the creation of our aftersales service section and so we managed to keep our clients happy by offering repairs and spares on a timely manner.
What do you consider to be the biggest challenges you've faced?
All our BRP products are high-end German products. We also brought in generators and industrial generators. With the increase in the machinery we had to increase the number of expert engineers to deal with everything. However, we constantly find it hard to recruit and train youth and have to resort to foreign workers, something I am not proud of. This is still the biggest challenge we face. Finding talented and skilled local youths.
Financially we have been sound, yes, but it's hard to get loans from banks. That's always a huge challenge. But our parent suppliers, like Droids and BRP, help us a lot by giving us some leeway with the payments and helping us with the shipping as well.
What do you consider to be the most significant thing dTECh has done so far?
When we first started distributing watersports vehicles, not many resorts were into power watersports. But we convinced them and introduced safe products which wouldn't endanger riders. We introduced them to such features as the water braking system, similar to a land braking system, which would instantaneously stop the vehicle rather than letting resistance slow it down as usually happens with other watersport vehicles. With the dissemination of proper information to the resort, more and more resorts became interested in adding power watersports to the list of the available services and this led to a huge boom in sales for us. Suddenly, every resort wanted our vessels. I think that's one of the most significant things we did that allowed the company to gain a foothold in the resort industry.
Rather than underwater sports gear, we offer products that cater to those interested in activities on the surface of the water. Our target demographic is generally the younger and more adventurous tourists. Our vessels will help them reach amazing speeds and let them experience the thrill and the rush of extreme sports. Moreover, if you're not an adrenaline junkie you have the option to take a ride in our semi-submersible gear which will keep you dry and still allow you to be able to explore the beauty of the underwater reefs and marine life.
Where do you see your company in the next decade or so?
All our products are marine products and we wish to stay rooted in providing gear that will improve the marine industry. We also want to expand into the transport sector with the introduction of better inboard and outboard engines. We want to introduce land-based Bombardier high-speed vehicles for thrill seekers. There is a product called the Bombardier Spyder which is a high-speed three-wheeled bike. The nearest comparison, and competition, to it would be the Harley Davidson motorcycles. We wish to someday introduce this product and develop extreme racing in the country as well.
As for myself, since the products are amazing on their own, I would like to lead the manufacture or assembly of engines and vehicles in our country to develop our industry. I'd also like introduce a way to bring in expertise and manpower from other countries in order to develop our youth and in turn create more jobs. I believe we can do this, hopefully in the coming decade or two, and make manufactured industrial products a key export of our country.