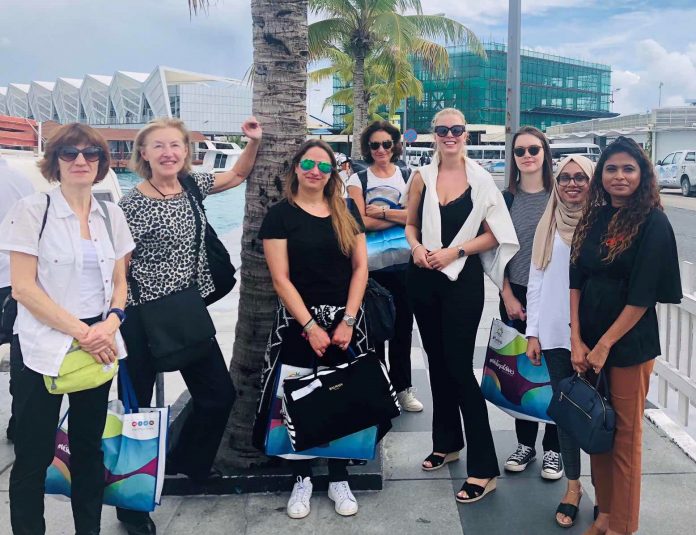 As part of the series of familiarization trips organized by Maldives Marketing and Public Relations Corporation, a media team from Belgium has arrived in the Maldives.
The journalists belonging to popular publications such as La Libre, Marie Claire Belgium, Together Magazine, Het Nieusblad, and Psychologies Magazine, will experience the Maldives during their week-long stay in three different resorts in the Maldives.
The trip will commence with a two-night stay at Paradise Island Resort & Spa followed by the team heading to Nika Island Resort & Spa for the next two nights. Their stay will conclude with a three-night stay at Meeru Island Resort & Spa. During their stay, the team of journalists will enjoy various activities in these resorts such as special dinners, watersport activities, experiencing the underwater beauty of the Maldives while also experiencing the culture of Maldives at local islands.
The purpose of these activities is to present the variety of experiences available in the Maldives for its visitors. By organizing such familiarization trips, the main target of MMPRC is to promote the Maldives as the most preferred tourist destination in the world. The coverage from this trip is anticipated to bring forward more awareness about the Maldives in Belgium and increase the arrivals
from the country.
The arrivals to the Maldives from Belgium have shown growth this year, compared to the past five years. The arrivals till September of 2019 marked a 20.5% increase in arrivals in comparison to the same period of 2018. This is significant growth, indicating the success of the marketing efforts towards this region.
The familiarization trips are part of the many marketing activities initiated by MMPRC this year to promote the Maldives in important markets. This is the 18th familiarization trip organized by MMPRC this year.