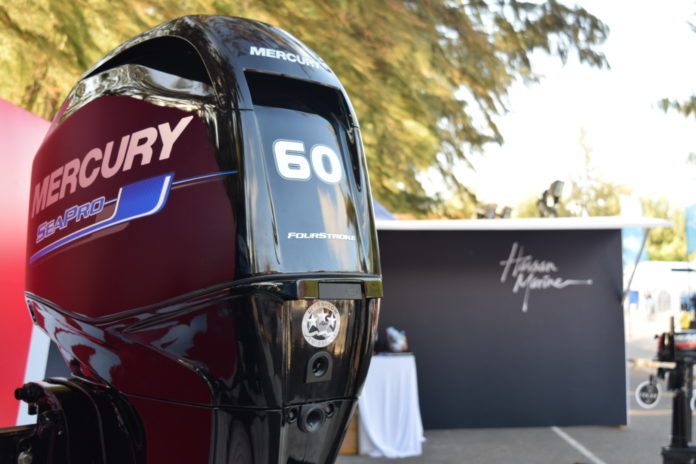 Hassan Marine has recently introduced the SeaPro model of Mercury 4-stroke 60 and 40 hp to the Maldivian market. As the Maldivian Marine industry gathers at Hulhumale', the visitors can participate in a lucky draw to win a Mercury SeaPro 60hp at Hassan Marine's stall. Maldives Marine Expo will continue till 30th September.
This model comes with a warranty period of 1 year and defines the benchmark of the outboard standards in the industry. The SeaPro Four Stroke engines are designed to last longer, while maintaining the power and performance needed to get the job done. They have improved properties and are built for long hours in harsh saltwater environment. These are ideal features for the guesthouses to ensure smooth operations.
These new models are SeaPro engines with a robust high capacity displacement and a low profile and lightweight design, which deliver the performance expected by commercial use. Tests have shown that they last longer three times compared to pleasure craft engines. The new SeaPro engines also feature several improvements to the engine for more durability and reliability, such as a fuel for commercial use, a retaining ring for the flywheel magnets, more durable upper engine rubbers, stainless steel thermostat.
"The introduction of Mercury's newest SeaPro Four Stroke Outboard contributes to Mercury's commitment to build the most durable and reliable four-stroke outboard engines for commercial applications," said Marty Bass, Vice President of Mercury Category Management. "With SeaPro we have our existing product not just recalibrated. We have made innovations to enhance the durability and performance of the engine. These innovations were then tested for their resistance to the most aggressive environments. Furthermore, the engines are designed with a view to ease of maintenance and very economical fuel consumption, which is proper to the four-stroke technology of Mercury. "
The new SeaPro Four Stroke engines of 40 and 60 hp complement the current SeaPro Four Stroke engines of 75, 90, 115 and 150 hp which were introduced in 2015 and have successfully run over thousands of hours worldwide in commercial markets.