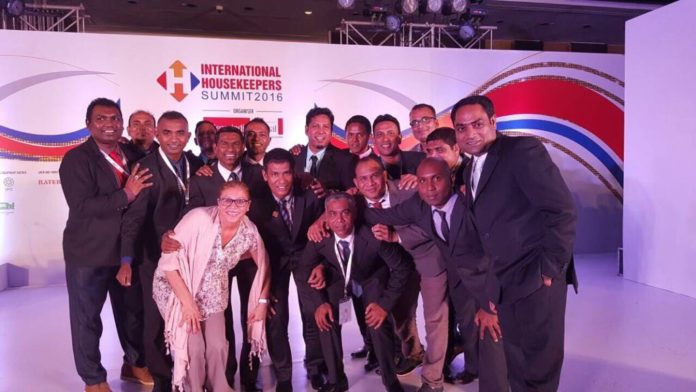 Housekeepers, General Managers, Purchase Heads, Laundry Managers — from across 11 countries will converge at the 2 nd edition of the International Housekeepers' Summit being organised at Sahara Star Mumbai on September 8 and 9, 2017.
The International Housekeepers' Summit is the only platform that has taken up the task to "Redefine Housekeeping in the Corporate Strategy" and the movement is fast growing. "During the first IHS2016 held in August last year, we formed the Asian Housekeepers' Association and now we have 11 country members taking forward the vision laid down during the Summit," said Hari Krishnan, General Secretary, Maldives Housekeeper's Forum .
Supported by the Maldives Housekeepers' Forum (MHF) and eight associations from other Asian countries, more than 300 delegates will come together at IHS2017 to "Energise the Synergies" between housekeepers and other departments to pave the way for a sustainable personal and professional growth.
While, executive housekeepers move up the ladder to become GMs, it is necessary to connect, understand and strengthen the relations with all the departments in a hotel. IHS2017 will have highly interactive sessions, including Housekeeping on the Digital Platform; Education & Training; Outsourcing & Sustainability; Quality & Procurement; Linen Care & Longevity among others.
"A delegation of over 15 Corporate/Executive Housekeepers, Director Rooms and General Manager will be attending the Summit from Maldives. We are launching the Asian Housekeeping Awards this time and are eagerly looking forward to it," said Ahmed Siaar, President and Founder of Maldives Housekeeper's Forum Maldives.
The Awards will give recognition to one housekeeper in entire Asia for outstanding contribution to Housekeeping. The winner will hold the title of Best Housekeeper in Asia for one year. "During the year, the winner will work towards the betterment of housekeeping. We are also encouraging the Assistant Housekeepers, who will take the legacy forward by learning the best in housekeeping today," added Hari Krishnan.
The awards will be given away at a grand function alongside the 2nd edition of the Uniforms a Fashion Statement show on designers' collection of hotel uniforms.
IHS2017 is an excellent platform for one and all to network, enhance knowledge and also do business across Asia. IHS2017 is organised by Clean India Journal, India's only monthly on Cleaning Technology, Hygiene Solutions and Facility Services in association with Asian Housekeepers' Association, headquartered in Mumbai, India.