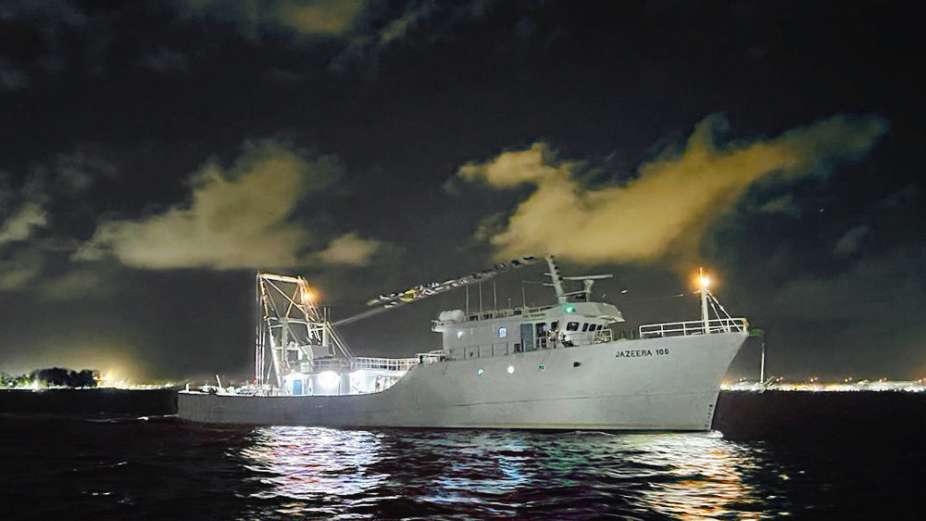 The Maldives Industrial Fisheries Company (MIFCO) announced the arrival of Jazeera 106, the first of three new boats, which docked in Male' at 10 pm yesterday.
Jazeera 106 began its journey from Thailand on November 4, 2023. As part of MIFCO's expansion, two more boats of equivalent capacity will be brought to the Maldives by the end of this year.
The Jazeera series fish-weighing boats have a freezing capacity of up to 60 tonnes of brine per day per boat and can store a maximum of 200 tonnes of fish. Adding these three boats to MIFCO's operations is expected to increase the company's daily fish acquisition by 180 tonnes.
To address challenges faced by fishermen during the fishing season and explore optimal fishing areas, MIFCO has acquired four boats this year. Jazeera 103, introduced in March, is currently engaged in fishing activities in the southern region of the Maldives. The collective capacity of the four island series boats this year allows for the freezing of 300 tons of fish per day.
With three more Jazeera series boats set to arrive by the end of this year, MIFCO aims to enhance its operational capacity to address challenges during the fishing season in the Maldives.