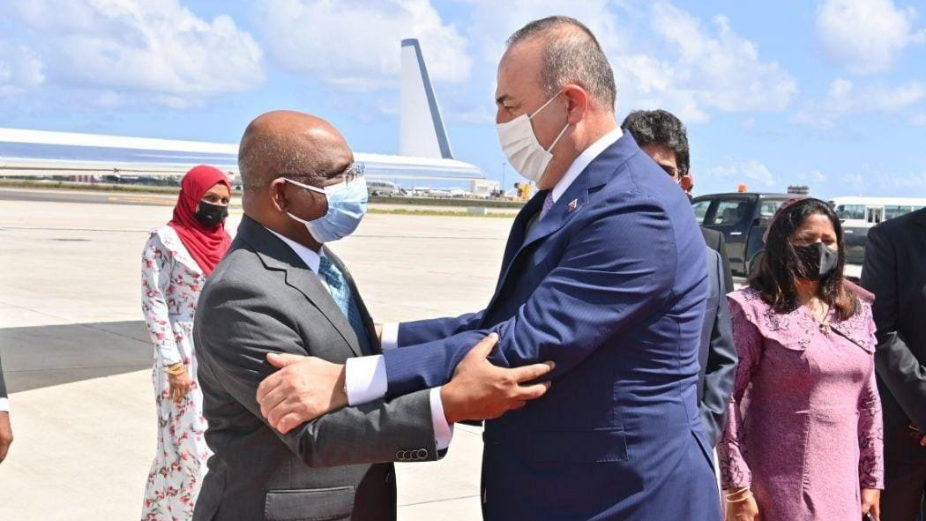 The Minister of Foreign Affairs of the Republic of Türkiye, Mevlüt Çavuşoğlu has concluded his Official visit to the Maldives.
Minister Çavuşoğlu was seen-off at the Velana International Airport by Minister Shahid and senior officials from the Ministry of Foreign Affairs.
During his visit, Minister Çavuşoğlu and Minister Shahid witnessed the conclusion of 5 key agreements between the Maldives and Türkiye, in the areas of trade and economic cooperation, agriculture, culture and cooperation between the Foreign Service Institute of Maldives and the Diplomacy Academy of Türkiye.
Minister Shahid, and Minister Çavuşoğlu also held official talks at the Ministry of Foreign Affairs.
During the discussions between the two Ministers, Minister Çavuşoğlu accepted the proposal by Minister Shahid to establish a visa-free regime between Maldives and Türkiye. This will allow Maldivians to travel to Turkiye without obtaining prior visa, and increase people-to-people contact between the Maldives and Turkiye.
Both Minister Shahid and Minister Çavuşoğlu discussed a wide array of issues of mutual interest in the areas of education, youth and sports, health, tourism, fisheries and agriculture, environment and climate change, economic cooperation, and counter-terrorism and de-radicalisation. The Ministers also reaffirmed their commitment to enhance cooperation in the international arena, particularly in addressing the contemporary challenges of the Muslim word.
Minister Çavuşoğlu committed the support of Türkiye for the Maldives candidature for the United Nations Human Rights Council for the term 2023-2025. Minister Shahid also conveyed the support of the Government of Maldives to Türkiye's bid to host the 51st Session of the Council of Foreign Ministers of the Organisation for Islamic Conference in 2025.
Minister Çavuşoğlu also paid a courtesy call on President of the Republic of Maldives, Ibrahim Mohamed Solih, and the Speaker of the People's Majlis, President Mohamed Nasheed.
This was the first Official visit by a Foreign Minister from the Republic of Türkiye to the Maldives.