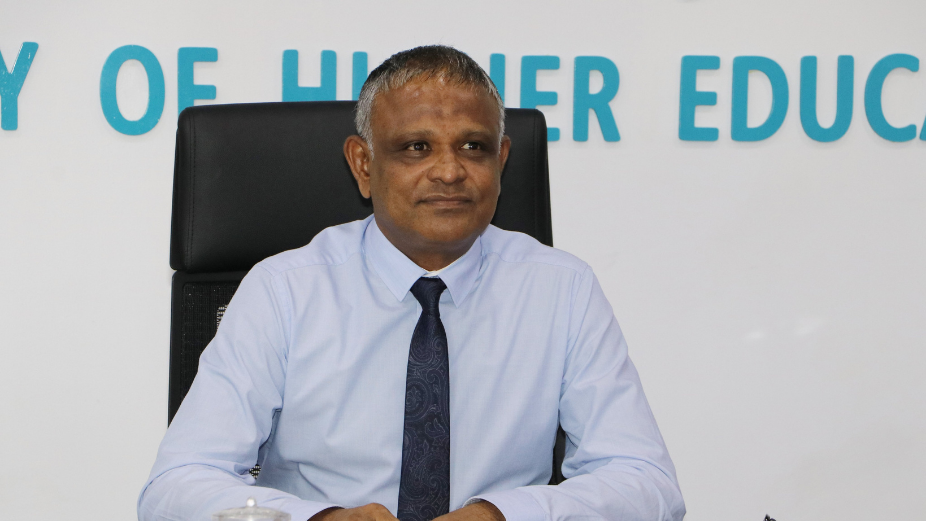 The first session of Entrepreneurs LIVE webinar series was launched by the Minister of Higher Education, Dr. Ibrahim Hassan yesterday.
Entrepreneurs LIVE is a webinar series organized by MEERY project, with the objective to create a platform for peer-to-peer learning and experience sharing. The webinar will bring together young entrepreneurs and individuals interested in learning more about entrepreneurship. The webinar is intended to facilitate networking opportunities, exchange of ideas, success stories, and motivate young people to become self-starters.
Maldives: Enhancing Employability and Resilience of Youth (MEERY) Project is a $20 million dollar project financed by the World Bank, spanned over a period of 5 years, and jointly implemented by the Ministry of Higher Education and the Ministry of Economic Development.
The project's primary development objective is to promote youth employment by improving the relevance of technical vocational education, and entrepreneurship skills development in priority sectors, including tourism, tourism-related construction, ICT, and agriculture.
The aftermath of the COVID-19 pandemic caused unimaginable disruptions to the businesses, forcing entrepreneurs to reflect, reinvent and adapt in order to survive in the 'new normal'.
In this context, Entrepreneurs LIVE webinar is introduced as an informative platform to support entrepreneurship development, featuring established entrepreneurs from different sectors, sharing real world stories. This is a great opportunity and a learning experience for the youth interested in starting their own businesses.
Minister of Higher Education, Dr. Ibrahim Hassan stated, "We hope this webinar series is insightful, inspires you, and facilitates networking opportunities, and becomes a platform for youth to create peer-to-peer learning and experience sharing."
The first session of this four-part series was launched yesterday. Recordings of the webinar sessions will be accessible for public viewing through MEERY project website and social media platforms.
During this session, the project introduced its upcoming business pitch competition, "PITCH-UP: Youth Entrepreneurship Challenge". The competition is a chance for entrepreneurial-minded youth to pitch business ideas and be eligible to win seed funding. The Business Pitch Competition is set to be launched on April 5, 2021.