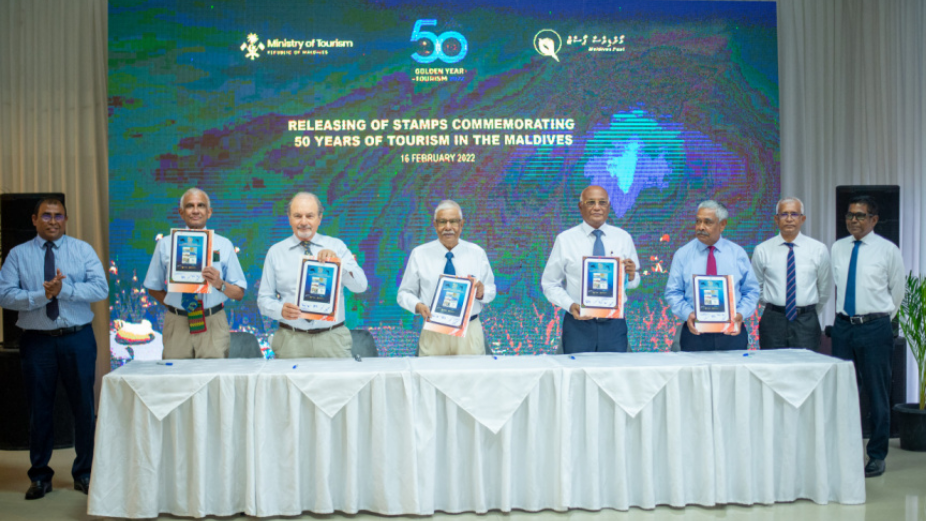 The Ministry of Tourism, in partnership with Maldives Post, has released a stamp collection commemorating 50 years of tourism in the Maldives.
The stamp collection was released on Wednesday by a few of the most pioneering figures of the Maldivian tourism industry in an event held at the Manhattan Business Hotel. These figures included George Corbin, a tour operator who brought the very first tourists to Maldives, Health Minister Ahmed Naseem, Champa Hussain Afeef, Mohamed Umar Manik, and Ahmed Mujthaba, Maldives' first Tourism Minister. 
Speaking at the event, Tourism Minister Dr. Abdulla Mausoom thanked the pioneers for their initiative, adding that tourism has helped transform the Maldives over the last 50 years.
The new stamp collection includes: 
MVR 5 – 1972: Inception of tourism
MVR 10 – 1986: Introduction of overwater accommodation 
MVR 20 – 1987: Introduction of hospitality training institute 
MVVR 30 – 1993: Introduction of seaplane services 
MVR 40 – 2010: Beginning of guesthouse tourism 
MVR 50 – 2022: Celebration of Golden Jubilee of tourism 
The stamps are available from Maldives Post's online shopping platform eTukuri.