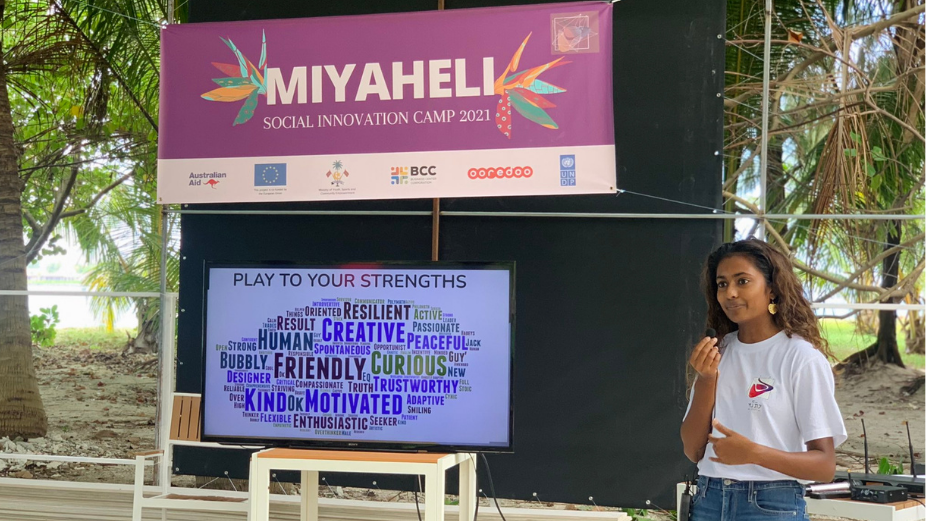 This year's 'Miyaheli' social innovation camp has concluded, with top five winners announced at the closing ceremony held in Thulusdhoo. The latest in the series of social innovation camps brought together over 30 participants aged between 18-30 years – who due to the ongoing COVID-19 situation, were targeted from from Alif Alif, Alif Dhaalu, Vaavu and Kaafu atolls this year. The participants were guided by mentors to create innovative ideas themed around 'Innovation for People, Planet and Prosperity'.
Five winning ideas were selected out of proposed 10 ideas, after evaluation by a panel of judges;
• 1st place went to both HIVVARU – a platform for freelancers to showcase services and for customers to access them; and ASHI – a marketplace for artistes to provide them with rightful opportunities and means to a dependable income
• 2nd place went to HUNARUVESHI – a platform to help level up professional skills for employment in the local tourism sector
• 3rd place went to IRUVAI – providing easy and affordable Renewable Energy sources for the public, and
• 4th place went to FEHIKAANAA – building healthier communities by connecting them with healthier meals
The winning ideas will receive seed funding and mentorship in accordance with their proposed budget and requirements to refine and bring the ideas to life.
"After being in lockdown for almost two years, this was a really great opportunity to be able to connect and talk to like-minded people. There are some good, innovative ideas here as well as some excellent financial opportunities. My message to all participants is to not let go of your ideas and move ahead with them, regardless of whether you win or not," said Aishath Ajufaan, whose team IRUVAI won 3rd place.
Together with the United Nations Development Programme (UNDP) in the Maldives and Ooredoo Maldives, 'Miyaheli' has partnered with the Ministry of Youth, Sports and Community Empowerment since 2019, and this year's camp is also held in collaboration with Business Center Corporation. The project is supported by the generous assistance from the Government of Australia and the European Union.
"Across our region, Australia is keen to support dynamic innovators, entrepreneurs, and social enterprises to achieve long-term economic recovery and climate resilience. As part of this effort, we are proud to have partnered with UNDP and our stakeholders to bring the Miyaheli social innovation camp to life since its inception in 2016," said Deputy High Commissioner of Australia in Sri Lanka and Maldives, Amanda Jewell.
"EU Youth Strategy encourages young people to actively participate in democratic life and in civic affairs and social change. We try to give enough resources to young people, so they become change makers in their societies. Through 'Miyaheli' social innovation camp we are listening to your ideas on how to address pressing social issues in the Maldives. This is part of our larger efforts in working with the Government and people of the Maldives," said Deputy Head of Mission of the European Union to Sri Lanka and the Maldives, Thorsten Bargfrede, who referred to partnership with UNDP on this aspect, to promote social cohesion and build community resilience in the Maldives.
As previous year's, this 6th series of 'Miyaheli' brought together youth and mentors to foster innovation, social entrepreneurship, critical thinking, and problem-solving skills in young people and create change from the grassroots up, allowing young people the opportunity to turn their ideas for social good into reality. The theme called for solutions on: –
1. Innovation for the Planet: With climate change and other environmental issues continuing to alarm and threaten the planet, time is running out for Small Island Developing States such as Maldives. It calls for solutions that focus on better practices, for a better planet.
2. Innovation for the People: With COVID-19 affecting societies at their core, exposing existing societal issues and worsening inequalities of vulnerable populations such as the elderly, persons with disabilities, women and girls, migrant workers, and youth, it's clear we need innovative solutions that Leave No one Behind. It calls for solutions to empower those most in need through increased opportunities, accessibility, and inclusivity.
3. Innovation for Prosperity: With any progress on decent work reversed as many lost their sources of livelihood due to the pandemic, corruption, injustice, unequal opportunity and other social ills added to the gloom; widening the gap between rich and the poor, the abled and the disabled, the men and the women and more. This calls to overcome barriers to prosperity for all and nurture opportunity for inclusive growth.
"Miyaheli aims to unleash the creativity and innovation of young people in creating fresh new solutions to societal problems. Youth involvement is critical towards addressing social and economic challenges faced by communities, and we are happy to see some brilliant ideas from this year's teams as well. Our warmest congratulations to the winning teams and we look forward to seeing their ideas come to life," said Noora Zahir, Manager Brand and Marcomms, Ooredoo Maldives.
"There are many challenges facing youth in the Maldives: More than 20 percent of young men and 26 percent of young women are neither in school nor employed, and COVID-19 crisis is contributing to their growing sense of disenfranchisement and exclusion. Yet, a youth population of nearly 47% presents a valuable opportunity to harness the benefits of a demographic dividend towards sustained development and economic prosperity. In recognizing this and seeking further opportunities to build youth entrepreneurship and inclusivity, UNDP stands with partners to continue tackling the challenges, bringing such efforts to promote youth-led entrepreneurship and social innovation straight across the islands on a national scale," said Enrico Gaveglia, UNDP Resident Representative, thanking partners for the support, and participants for their solutions, and alluded to the contributions of the social innovation camps towards meeting the Sustainable Development Goals.