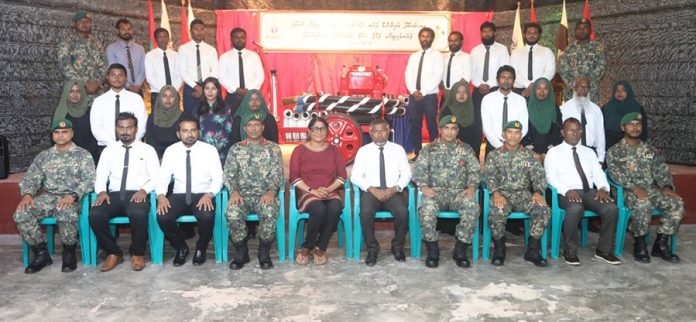 Maldives National Defence Force (MNDF) in association with the Male' area and AA. Rasdhoo council has inaugurated an Island Fire Response Team.
The Island Fire Response Team consists of participants who took part in the MNDF volunteer fire training program in Rasdhoo from 17th-22nd November. A total of 19 participants completed this program.
The initiative intends to create a fire fighting volunteer community who are trained to undertake and assist in any fire emergency cases.
Defence Minister, Mariya Ahmed Didi honored the participants as the Chief Guest of the special ceremony held to inaugurate the team and award the participants who completed the training.
On behalf of MNDF, Defence Minister, Mariya also presented a fire pump system to AA. Rasdhoo council during the ceremony.
Defence Minister was accompanied by the Chief of Defence Force Major General Abdulla Shamaal, MNDF Area Commander Colonel Abdulla Rauf, Fire and Rescue Service Commander Colonel Abdulla Ibrahim along with AA. Rasdhoo Council President Abdul Jaleel Moosa.