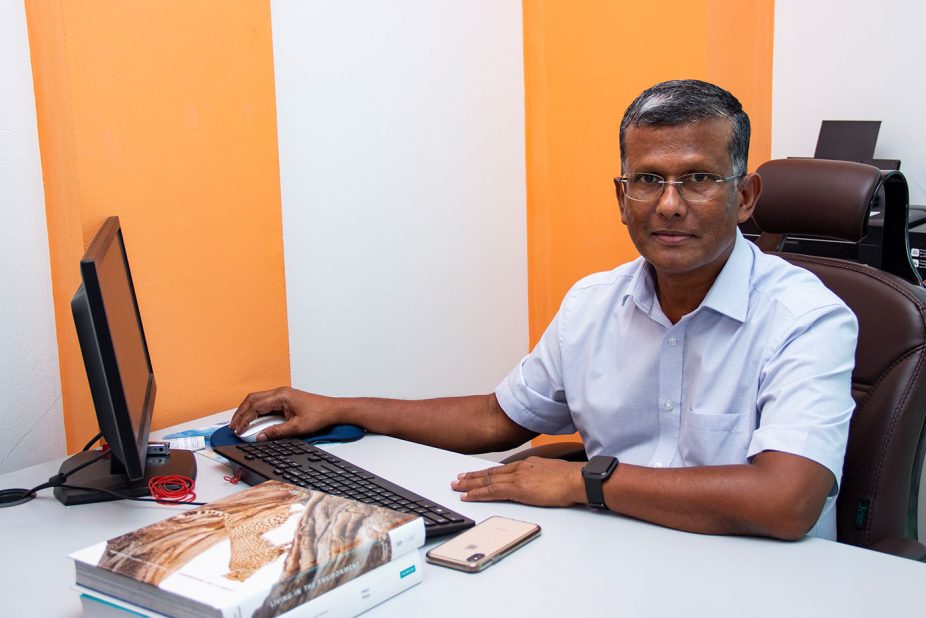 M7 Print is a company founded by Mr. Mohamed Abdul Sattar with a focus on paper-related products and services. We sat down with him to gain an insight into his journey and how M7 was established.
Could you begin with an introduction to your career?
My career had a rather humble beginning when I was almost 15 years old. I began working at a shop assistant as well weekly story bulletin called Buraara and helped out the owner with the printing. Shortly thereafter, I changed my career course in 1978 and started working at the National Planning Agency (NPA) as a peon. NPA was interconnected to The President's Office. As a peon, I performed many miscellaneous duties such as cleaning, delivering letters and such.
At the time, the President's Office had a printing section and it deeply grabbed my attention. After some time, I got the chance to help to sort at the Friday prayer speech papers at the President's office. I also participated in a class to improve my writing to ensure I delivered my work in the utmost professional manner.
I then decided that I wanted to gain more diverse experience and changed to a budget clerk in the Treasury division under The Finance Ministry. It was a really different experience as I was involving of the governmental most valuable Treasury safe and got to physically feel bulk cash, gold and such. From there, I was promoted to an assistant secretary. Having already worked in a similar position, I decided to go into a different post so as to diversify my work experience.
With this in mind, I got a chance to work at the Audit office which turned out to be a great learning experience. I was able to unearth interesting cases of many different offices and different huge fraudulent cases with my seniors.
After working in the aforementioned post, I was suddenly struck with an incident that drove me to go back to my island. As it was at the time, there wasn't much I could do at an island and I was required to take up fishing. I spent over 3 years working on a fishing dhoni even working as an engineer when required. I had a lot of problems while working as a fisherman as I got seasick and such but I still worked hard and never missed a day at fishing. Within the 3 years, the dhoni I was working in became a recognized one within the Atoll. However, after two major life-threatening incidents that happened while working in the dhoni I decided that it was time to move towards to complete my study in order to achieve my vision. I then made my way back to Male' in 1983 and soon moved to work in the State Trading Organization (STO).
How did the business idea of M7 come about?
Though I was still working in STO my interest and passion in the printing area was still engraved deep within me. The passion was just further kindled by the fact that it was a huge struggle to get a document photocopied at the time due to lack of photocopy places. Having received promotions to a level of Product Manager at STO, I decided to go on and finally work on fueling my passion for printing. With my dream in mind, I asked one of my very best colleague Mr. Abdulla Salih to get me a printer in order to start photocopy service with my classmate. I always kept it in my mind that I am working to make the lives of my siblings easier, which made my will stronger. We started out small, naming our business SM Stationery. However, my partner soon decided to part ways due to lack of revenue and hence, I was faced with the decision to change the name as the S stood for his initial. After careful consideration, I chose the name M7 with the M standing for Mohamed from my name and 7 standing for my wife is the 7th child of her family with my number of male siblings.
Soon after the country was struck with the unfortunate disaster of the Tsunami, we decided to expand our business into offset printing. Before that, we only worked with Photocopy and duplicating. However, we made the decision to expand with the constantly evolving needs of our customers. With the help of a Singaporean investor, our business expanded into offset printing, later a local businessman gave us a big helping hand to expand our offset printing services to International level. In this movement, I appropriate all the team members of M7, investors, clients, friend and family members.
What is the biggest success that M7 has achieved?
Having achieved so much over the years it is difficult to pinpoint one certain success story of my life. But I certainly believe that being able to go from absolutely nothing to where M7 is till date is a huge achievement with clients' trusts. So many believed that my work was an unprofitable line of business at the initial stage and I am extremely happy to say that it was not the case.
It also makes me extremely happy when I gain the trust of my clients. In my opinion, when you gain that trust from your clients, it determines the success of the company. I also got loyal Team members at M7 working with me always, without their support this achievement will never be possible. A big thanks to all clients and stakeholders, family and friends including all members of M7 for contributing to us in all means.
What was the biggest challenge that you faced in your line of work?
I faced so many challenges to get to where I am. With a rather shaky childhood, I had to help out in homes in order to stay in Male' and continue with studies. It was one of the hardest things that I had to go through but I endured it as I wanted to be a knowledgeable person. Another rather difficult challenge I faced was moving into offset printing. Even though it proved to be such a struggle, it was definitely worth going in to offset printing.
What do you do differently from your competitors?
I have a very solid policy that I mentioned previously as well. I am a strong believer in establishing trust between myself and my clients. I also ensure that we deliver our work in an uncompromised manner. I personally make sure to instill these values in every single employee who comes to work under our company. In my opinion, having a good working culture is important. And the fact that I pay so much attention to maintaining these values is what makes M7 different from our competitors.
What would you like to say to upcoming young entrepreneurs?
The most important point, that I believe can never be stressed enough, is building trust. It is something that can get you where you want to be. Whatever you do and wherever you work, make sure that you work in a way where your customers can trust you without having to be vocal about how trustworthy you are. Instill good manners within yourself even in the smallest of situations so that your trustworthiness is visible to your clients in every way.