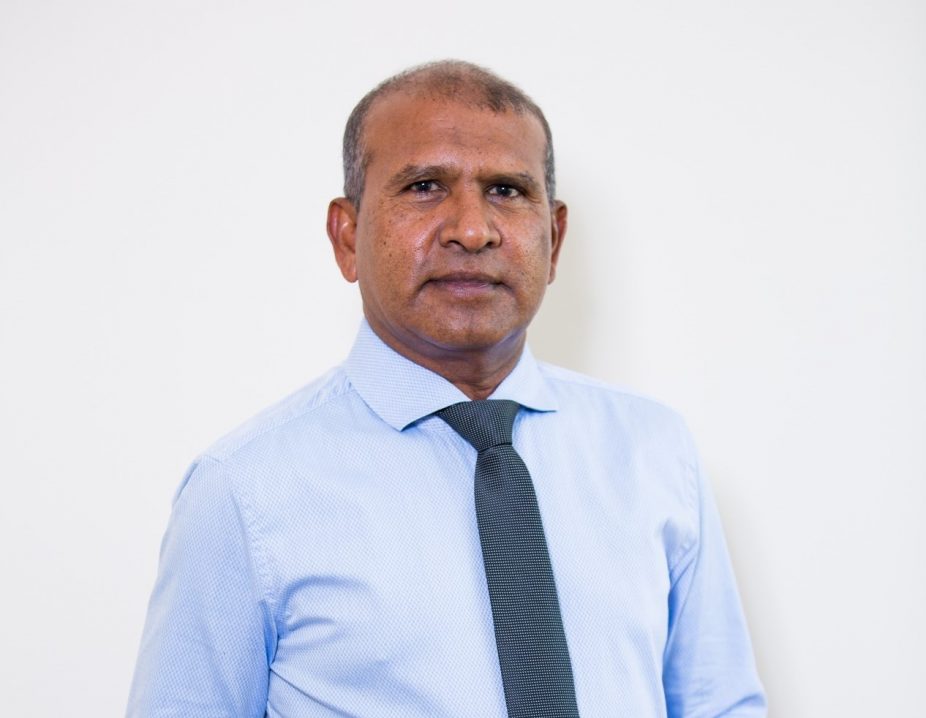 Ensis Fisheries is a company founded by Mr. Mohamed Waseem Ismail with a focus on fisheries and export-related works. We sat down with him to gain an insight into his journey and how Ensis Fisheries was established.
How did you get started?
I came to Male' at a very young age hoping to get a better education than what was available at my island, but I had to stop halfway through as my parents were unable to afford it and I had to start working while I was just 17 years old.
My first job was at Cyprea Pvt Ltd as an Accounts Clerk. While working there I got the chance to move to a resort operation handled by the same company and served in multiple posts. I was able to get on the job training related to tourism and development, which was helpful for me. I worked at Cyprea for 19 years and during the last 10 years, I was the Resort Manager at Kanifinolhu.
It was while I was working there that Cyprea decided to lease the island to Club Med. That was the moment I decided that maybe it was time for me to venture and do something new of my own. The company itself is one of the best and the people there are very kind-hearted and helpful and I did get many job offers and other opportunities which I could have taken when I decided to leave. However, I had made up my mind to do something on my own and there was no turning back from that.
What is the story behind Ensis?
In 1997, I started Ensis Pvt Ltd with three partners, who are still currently with us. Back then, we used to market souvenir items where we brought in an embroidery machine and produced embroidery items such as caps, t-shirts and even did logo designing. Then I tried to create our own, another business together with other groups of partners and established Gate Pvt Ltd, which mainly focused on construction and decoration materials. I also made a company called the 'Creations Group' which didn't really work out.
While working on Gate Pvt Ltd, I got the chance to enter the fisheries industry. We got this opportunity due to a prominent local company backing down from a venture deal with a Japanese company that had brought in barges and fishing boats to expand the business. The company was looking for another party who might be interested in. We took up the offer to be their agent and through this contract, we were able to take a step forth into the fisheries industry.
We registered the company the same day we began our new venture. As it was a newly established company we didn't have many employees. Work would begin at 5:30 am in the morning with the weighing of fish, exporting it and doing the same routine over and over again each day. Within a month, we were able to make some profit and start hiring new employees. That's how we got into the fisheries export industry.
Back then MIFCO was the only organization that exported fish products to European countries and we exported the fish caught by our fishermen directly to Japan. Here we got the idea that maybe we can also venture into the European market. We created an EU setup in the barge as a processing factory for Europe. We didn't have any contacts from the European market and this was the next goal we wanted to achieve.
What are the other areas Ensis has ventured into?
In 2004, we visited a Fair held in Brussels and made many contacts. It was a bit easier to pitch the idea since Maldivian fisheries products can be seen here and there in the city due to MIFCO's operation. At the Fair, we met a French party to whom we exported 500kg of fish every week.
In 2006, the Japanese company we partnered with decided to stop doing business with Maldives. Luckily, we had a steady foothold in the European market by then, having learned how the market is structured and had enough contacts to move forward. The matter was discussed with the partners and we came to the conclusion that it was time to establish our own factory. We did get a lot of opportunities to construct the factory in Himmafushi or Huraa but our decision to construct at Hulhumale' was made after careful consideration. Our objective was to have the factory at a place that provides a way for easy logistics and has potential growth.
We procured a lot from Hulhumale' Phase One and successfully began our operations in 2007. I would say this is where business actually started booming as Ensis has secured 50% of the export market in the past 8 years. Even with the market changes that occurred within the year, we have been able to export 40%-46%.
We then tried to penetrate the wholesale market of Skipjack Tuna to other countries. Unfortunately, back then it was allocated to specific parties and it was a difficult market to enter. When the first MDP administration came to power, we were able to make a mark and begin exporting 1-2 tons of fish. Luck was in our favor at that time as Skipjack tuna world market rates were high. We were able to purchase 1kg of fish for just MVR 35 from Huvadhoo Atoll. Fish products were created and we sold these directly to the European market. With Maldives being certified by MSC Fisheries Standard for Skipjack Tuna fishery, rates increased for a short time period before pummeling down to a low rate.
We analyzed every market we have penetrated and identified that tuna cannery was an area we hadn't pursued yet. We first tested the market producing cans in neighboring Asian countries, including Thailand and Vietnam which yielded great results.
Similarly, we also have a bakery line under Ensis which was initially launched in Hulhumale'. The concept behind the Ensis bakery is to produce products using fish and to pave the way to create more of our own products. Our main aim is to reduce fish wastage and come up with ways that it can be utilized to create better products with it. We use fish waste such as fish bones and head to make rihaakuru, more popularly known as Enzi Rihaakuru. To keep up with our goal, we also use the waste from Rihaakuru production to make products such as fertilizers to ensure there is zero wastage. To reduce the wastage of cannery production, we are planning to build a fish meal plant next to the cannery plant to produce animal feed.
How seamless was the shift from tourism to the fisheries sector and what challenges did you face?
I think the main difficulty I faced during the shift was lack of experience and knowledge. People were not allowed to visit the factories and to see how the work is done. Hence, it was a bit difficult to have a clear idea of the process involved. To overcome this I traveled to other countries and checked the facilities there to have a better understanding of how it works.
Even when we made a mobile factory on the barge, we had no clue whether it was structured correctly. All our factories have been constructed this way after much reviewing and researching other facilities abroad.
What was the most challenging day of your life in Ensis?
I think the most challenging time at Ensis was during the construction of the factory when we faced some serious issues. In the lease agreement for the lot in Hulhumale' Phase One, it says that within a year after construction is completed, electricity, water and sewerage services would be provided. Near completion of the factory construction, we were told that the services would not be arranged on time as agreed since they didn't have the capacity to provide the services.
It was a very shocking day for me as this was a huge investment from our side and it would prove to be a huge loss for us if we stopped. After much negotiations, we were given part of the adjoining land to establish and construct our own engine house, water plant and sewage system. This turned out to be a very good thing as it allowed us to lower our expenses as the plants were managed and operated by the company.
The state later did establish sewage systems in Hulhumale' but they sell only 1 tonne of water to each party. Our minimum requirement is 200 tonnes of water. Even with the introduction of the new engine plant in Hulhumale', STELCO doesn't have the capacity to provide enough energy/electricity to the whole of Hulhumale'. The current consumption of Ensis is 1.6 MW.
What is Ensis' most notable success?
I would say that our most notable success was creating something from nothing and being able to establish a successful venture that is one of the market leaders in the fish exporting business. Aside from that, I consider receiving the Government's 'Fisheries Honorary' Award to be a huge success.
We are also operating a safari under the Ensis brand as well as two real estate projects. Ensis is also one of the major shareholders of Dhivehi Insurance and has a company established in Frankfurt Germany to facilitate the distribution process in Europe.
What is your advice for young entrepreneurs stepping into the industry?
First, try to learn and gather an understanding of an idea that you are passionate about before trying to establish it. Once you have it together, keep moving forward till you make it and be resilient about it. You won't notice much difference in the first phase of any business, but in due time with the stride, you are going with, you can expect to produce good results that can further motivate you. You have to be very committed.
How do you keep a strong partnership in business?
Honesty is the key. Everyone has a different mindset when it comes to how they want to run a business, but I think the main key aspect here is to learn how to work together and accepting ideas from each individual to see how we can work and apply it in business. Some ideas would be good while others might have a negative impact. It's all about having a good communication system and having the trust among the partners that whatever decision made will be in union and good for the business.