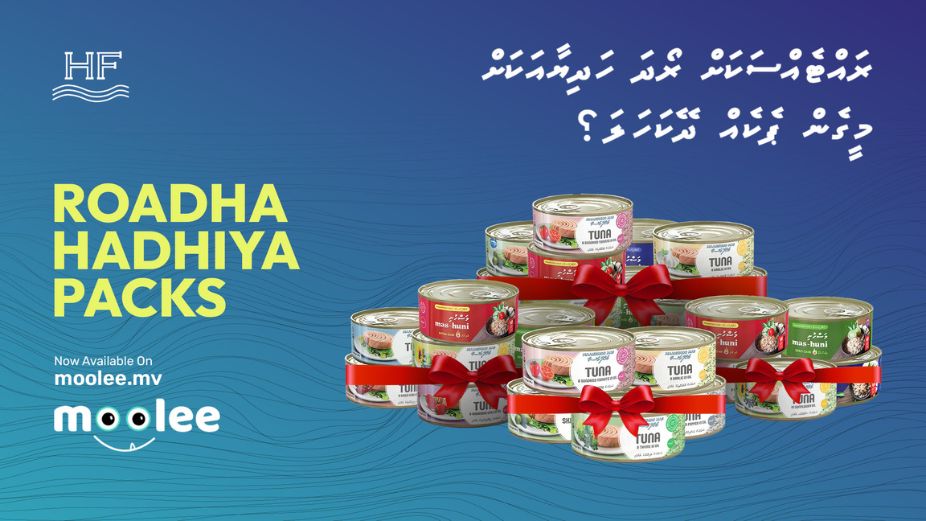 The leading e-commerce platform Moolee has partnered with Horizon Fisheries to provide customers with easy access to a range of bundled gift packs featuring Maandhoo Mas products, a popular local tuna brand. This promotion is part of Moolee Roadha Baazaar promotion enabling a vast variety of essential items frequently required during the month of Holy Ramadan. The promotion offers free nationwide delivery across the country, making it easy for customers to purchase these gift packs from the comfort of their own homes.
Customers can choose from four different gift packs, each containing a variety of delicious tuna products. The gift packs are priced from MVR 145 to MVR 160, and all come with free nationwide delivery.
Roadha Hadhiyaa Pack 1 includes 3 cans of Tuna in Habanero, 2 cans of Tuna in dried chili and 1 can of Tuna in Sunflower Oil (SFO), Tuna in Brine, Mashuni Extra Oil, Mashuni normal and Mashuni Zero Chili for MVR 150.
Meanwhile, Roadha Hadhiyaa Pack 2 priced at MVR 160 includes 2 cans of Skip Jack Tuna in Olive Oil, Tuna in Sundried Tomato in SFO, Tuna with Lemon & Pepper in SFO, Tuna with Lemon & Thyme in SFO, Tuna with Garlic & Herb in SFO.
Roadha Hadhiyaa Pack 3 is priced at MVR 145 and includes 2 cans of Mashuni Extra Chili, Mashuni, Mashuni Zero Chili, Tuna in Habanero, Tuna in SFO, while Roadha Hadhiyaa Pack 4 includes 1 can of each flavour of Maandhoo Mas products for just MVR 150.
To purchase the Roadha Hadhiyaa Packs, customers can easily visit http://ore.do/maandhoomas and place their orders and enjoy free nationwide delivery. Moolee welcomes customers on any network to shop for Ramadan essentials via Ooredoo App and their website.