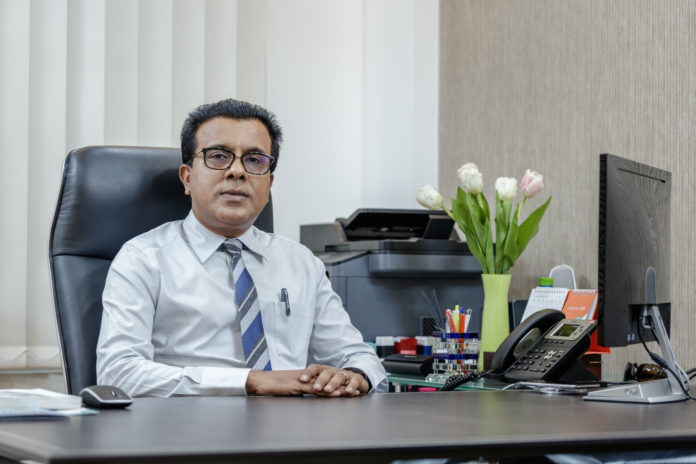 How did you get started?
A friend who worked in the construction industry requested me to setup an office for his company and work for him as a General Manager, to assist him with his business. That's how I was introduced to this industry. After that, I worked in two construction companies as a shareholder. All that work was part-time, as I was employed at the Maldives Monetary Authority. But it proved to be very good experiences for me to get to know the business. I noticed that construction companies could serve their clientele more soundly and cost-effectively and at better prices than they were doing at the time, if they could transform some of their procedures and improve their dealings with clients and the related authorities of the government. But I realized that forming a company and devoting my time and attention to grow it would be the only way I could achieve this target. So that led to the beginning of my own company, ABC Construction Private Limited in 2009.
What do you consider your biggest successes?
The business has grown exponentially, and we now import 85 percent of all construction material to cater for our needs. We own all machinery and vehicles required to carry out our jobs. In addition, we haven't been charging advance fees from clients right from the start and we are also operating debt free. All these achievements, within a span of 9 years, has led to the utmost trust of customers in our services. So this position of trust we hold is what I consider as our biggest success.
What are some of the notable challenges you have faced?
When we started, we faced several challenges such as competing with well established companies to win lucrative deals while also offering better rates for projects than our competitors. Another big challenge was not having the required construction machinery and vehicles when we started to operate. But now, with the grace of Almighty Allah, we have overcome all such hindrances and have established ourselves within the industry.
What do you do differently from your competitors?
We do a lot of customer-oriented dealings differently that make us stand out from our competition. For instance, we do not charge customers for BoQs and loan documents. We don't charge advance fees and have a platform in which the customer pays phase by phase of work completion. Even if a customer faces some financial difficulties in paying, we go on to complete the whole project up to our top-notch standards and give the option for customers to pay us in installments, when they start earning from the project. On the customer service front, we have a very open and transparent and open-door policy whereby customers can even directly contact the Managing Director with enquiries.
What is your advice to the young MDs and CEOs of tomorrow?
My primary advice would be to be "definitive" and "sure" that it is what you want to do, even before you begin. Commitment, hard work, dedication, passion and loving what you do are must have traits. You must treat your staff as colleagues rather than just employees, with proper feedback, recognition and acknowledgement for the effort they put in. If you plan to invest in growing any business, you must first check the realistic demand for it and only make investments accordingly. Never lose sight of the fact that the core of a successful business is always "trust".